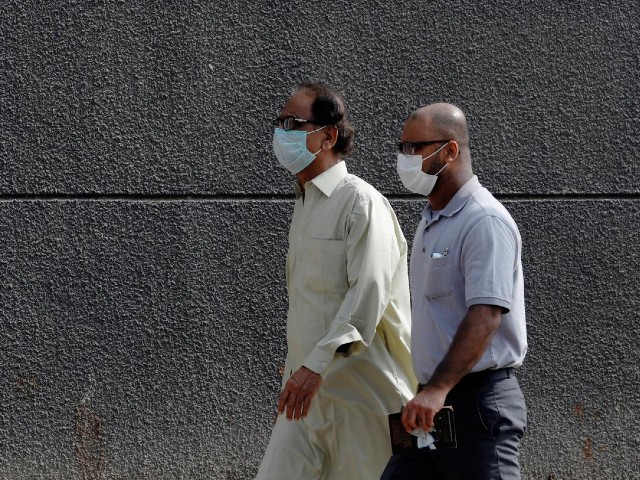 ---
KARACHI:
Despite several alerts issued by the government, sprawling negligence during Eidul Azha season has pushed the province in the mouth of yet another coronavirus crisis.
The National Command and Control Centre (NCOC) had warned of an impending delta-variant outbreak the past month, urging the population to limit congregational activities and maintain SOPs.
However, the rampant flouting of health advisory and the resulting surge in virus cases, has now forced the federal and provincial governments to impose further lock-downs in Karachi and other cities.
As of July 24, Sindh had recorded a total 363,101 Covid-19 cases,sounding alarms for another health emergency. Government hospitals in the megacity, most full to the brim and operating beyond capacity, now require additional resources for the influx of patients.
In this regard, the Sindh Health Department has installed oxygen tanks in five Karachi hospitals, including Sindh government hospital in Korangi, Liaquatabad government hospital and Sindh Government Services Hospital.
Read More: Antibodies from Sinovac's Covid-19 shot fade after about 6 months, booster helps: study
In addition to that, the government has also directed the management of hospitals under Karachi Metropolitan Corporation (KMC) and social security hospitals, including Abbasi Shaheed Hospital, to allocate beds for coronavirus patients.
However, the insurgence of the fourth wave has already started to weigh heavily on the province's healthcare system, leaving many government hospitals struggling to operate. Whereas, in regard to hospitals under KMC and Social Security, it is alleged that despite capacity and millions in budget, they are yet to shoulder the weight of Covid-19 patients, in the war against pandemic.
There are two major hospitals in Karachi under Social Security, which includes the 200-bed Kulsoom Bai Walika Hospital in SITE area and a 300-bed hospital in Landhi. Neither of the two have reportedly admitted any coronavirus patients. Out of the 13 major KMC hospitals only Abbasi Shaheed has a Covid-19 ward, which too had long remained inactive under neglect.
On the other hand, the Sindh Infectious Diseases Hospital at Nipa Chowrangi, run by Dow University, has 45 beds in the Covid-19 ICU and 108 beds in the HDU with a total of 153 beds, which is full to the with 153 coronavirus patients and no capacity for more.
According to Jinnah Hospital Executive Director Dr Seemi Jamali, unbridled festivities of Eid have turned into a superspreader, heralding the delta outbreak in the megacity. "Some 90 beds have been allocated for coronavirus patients in Jinnah Hospital. We have a capacity of 88 beds but in view of the increasing number of patients, a 70-bed pulmonary ward has also been set up and will be operational from tomorrow," she said.
Four of the hospital's nurses and a few doctors had also contracted the virus. But being vaccinated, said Dr Jamali, had saved the healthcare workers from any complications. Speaking in the same vein, she urged the population to get vaccinated as soon as possible.
According to Civil Hospital Medical Superintendent (MS) Dr Noor Mohammad Soomro, out of the 202 beds allocated for coronavirus patients, 185 are already occupied. "The Sindh government in response, has procured 200 BIPAP machines, out of which some have been granted to the Civil Hospital, in addition to an increased supply of oxygen being given to district hospitals," told Dr Soomro.
Similarly, the Sindh government hospital in New Karachi has also been functioning beyond capacity. Per MS Dr Ismail Memon, the hospital has 55 beds, including 10 intensive care units, for Covid-19 patients, but has received and admitted over 150 patients suffering with the disease.
Sindh Government Korangi Hospital has 80 beds allotted for Covid-19 patients, which include 16 are in ICU and 28 in HDU. However, the hospital has only 52 beds currently available, which considering the rate of infection in the city are bound to be occupied soon.
The National Institute of Child Health's management revealed that there are four beds allocated for Covid-19 patients in the hospital's ICU, out of which four are occupied. Whereas the coronavirus HDU, which has 5 beds in total, only has 2 currently available, in addition to 16 vacancies in the coronavirus isolation ward.
Furthermore, Ms Abbasi Shaheed Hospital Dr Nadir Khan said the hospital's ICU is equipped with 18 beds with access to ventilators. Out of which, only 12 are vacant at the moment. Similarly, the hospital's HDU of 24 beds, can only occupy 18 more patients. "The isolation unit also has 28 beds. But it has six patients at the moment, so only 22 beds are empty," he told The Express Tribune.
COMMENTS
Comments are moderated and generally will be posted if they are on-topic and not abusive.
For more information, please see our Comments FAQ