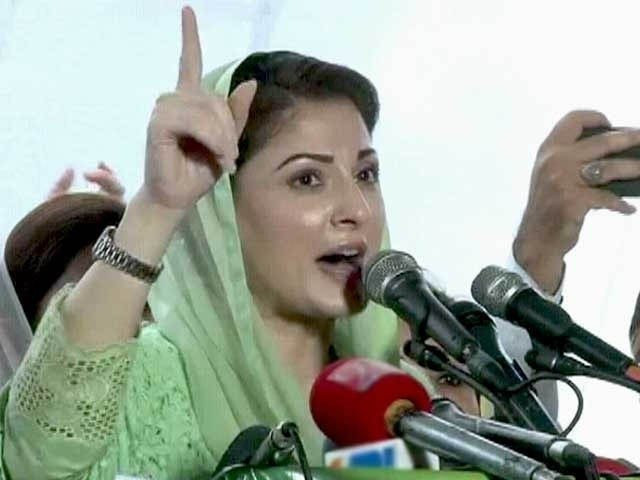 ---
MUZAFFARABAD:
PML-N Vice President Maryam Nawaz on Saturday warned the ruling PTI, which "stole" polls, that any attempt to stop her party in the upcoming Azad Jammu and Kashmir (AJK) elections would be dealt with severely.
"The people of AJK have already ruled in favour of the PML-N," she said while addressing a rally in Islamgarh. "Our candidates have already won the elections. The clear evidence of this is that by holding a rally here in such heat, my throat has dehydrated and you are standing for me in a temperature of 40 degrees [Celsius]," she added.
The PML-N leader, the daughter of party supremo Nawaz Sharif, said the opponents were watching the election campaign of PML-N in AJK and distressed about it.
"The PTI is greeted with rotten eggs and shoes [wherever it goes]." Maryam said the PML-N was no longer the party that it was in 2018.
"This is a party that catches 'vote thieves' and finds votes in the fog," she maintained.
"This is not 2018 in which you blocked the RTS. If you steal the AJK elections from us, Kashmiris will not spare you."
Also read: Maryam claims conspiracy was hatched to assassinate Nawaz in prison
The PML-N leader said she had heard that Prime Minister Imran Khan was visiting AJK and starting his election campaign from Bagh because he had found a "new ATM machine" there.
"I request the Kashmiri people not to greet them [PIT] with eggs and tomatoes but with "Go Imran Go" and a necklace for Imran Khan inscribed with "flour and medicine thief."
Maryam said the Election Commission had barred the minister for Kashmir affairs from entering AJK.
"Everything has become expensive in AJK. Whenever one wakes up in the morning, they learn about the news of the prices of flour, medicine and sugar rising."
She maintained that airports were being mortgaged now. "In our time [PML-N's tenure], it was said that building motorways and roads do not lead to development and today they are trying to do the same thing."
She said her father wanted to build a motorway in AJK. "China wanted to start many projects with its money in AJK during the PML-N's tenure," she claimed.
"The China-Pakistan Economic Project (CPEC) was progressing during my father's tenure, and now it has grinded to a halt."
In the midst of major parties feverishly rallying to emerge victorious in AJK polls, the PML-N supremo had decided to put Maryam to the forefront of the election campaign instead of his brother and party president Shehbaz Sharif.