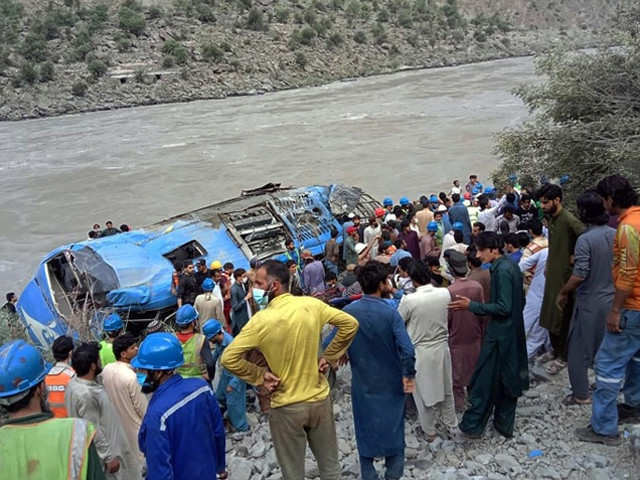 ---
ISLAMABAD:
A team of Chinese investigators reached Islamabad on Friday to probe into the Kohistan bus tragedy earlier this week in which 13 people, including nine Chinese citizens, lost their lives, sources said.
The sources said that the team met with senior Pakistani government officials after their arrival in the federal capital. They added that the Chinese investigators would visit the accident site on Saturday (today) and receive a briefing from the Pakistani security officials.
The incident occurred on Wednesday, in which a bust ferrying staff members to the place of work fell into a ditch, killing 13 people including nine Chinese and two Frontier Constabulary (FC) personnel.
Also read: China asks Pakistan to conduct thorough probe into Dasu incident
Pakistan had assured China of proper investigation into the bus tragedy. Initially, the Foreign Office had said that the incident happened due to a mechanical fault in a bus that caused leakage of gas and then blast. However, Information Minister Fawad Chaudhry said on Thursday that some traces of explosives were found in the initial investigations.
On Friday Prime Minister Imran Khan spoke by the telephonic with his Chinese counterpart Li Keqiang, and assured him that the government of Pakistani would spare no effort to fully investigate the incident.
Imran told Premier Li that the security of Chinese nationals, workers, projects, and institutions in Pakistan was the "highest priority of the government". he also expressed condolences over the loss of precious lives of Chinese nationals caused by the tragic incident.
The prime minister said that the people of Pakistan shared grief and pain of the bereaved families. He underlined that the government of Pakistan was providing the best possible medical care to the injured Chinese nationals.
He reiterated that Pakistan and China had an iron-clad friendship which had withstood the vicissitudes of time. "No hostile forces would be allowed to damage brotherly relations between Pakistan and China," he added.
(WITH ADDITIONAL INPUT FROM APP)
COMMENTS
Comments are moderated and generally will be posted if they are on-topic and not abusive.
For more information, please see our Comments FAQ