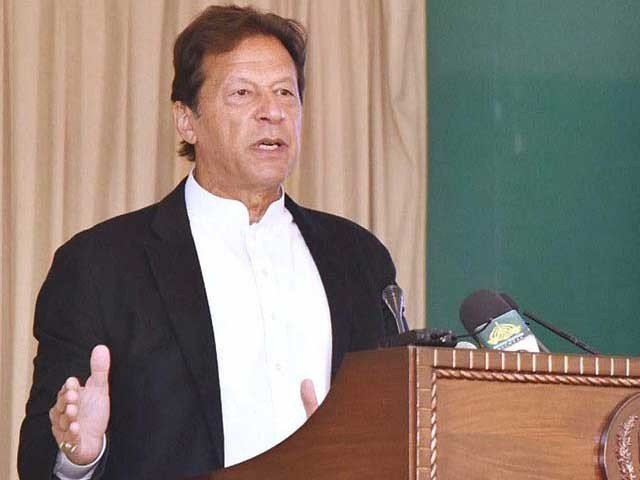 ---
ISLAMABAD:
Prime Minister Imran Khan said on Wednesday that the Pakistan Tehreek-e-Insaf-led government was vying to introduce e-governance in the country to make things easier for the public.
"The government's real purpose is to create ease for its people. Science and technology have created shortcuts for people," the premier said while addressing a ceremony of NADRA's succession certificate distribution in Islamabad.
He added that the technological revolution had changed things around for tasks that used to take time and were cumbersome for people.
Citing the example of the Shaukat Khanum Hospital, the premier said that an in-house software developed in the hospital assisted it in going paperless.
"It's biggest advantage was that corruption was eliminated. There is no way to create false receipts, as cancer medicines are very expensive," he said.
All problems related to "paper pushing" and "files, especially land records getting burnt" would now be eliminated, the premier added.
PM Imran further stated that most court cases were related to possession of land. The land mafia also came into existence owing to the delay in the resolution of these cases.
Read Good governance through sustained development
"For this we are computerising the entire land record and will hopefully have all land records of Islamabad computerised by August," the premier added.
Speaking of e-voting, the prime minister further said that the government wanted to include overseas Pakistanis in the electoral process.
He said overseas Pakistanis were the country's assets, but cannot participate in the electoral process owing to procedural problems, and are instead asked to come to Pakistan to vote.
He further added that use of electronic voting machines (EVM) would eliminate electoral fraud.
"The judicial commission pointed out that all fraud occurs after the votes are cast and before the results are announced. As soon as the EVMs are introduced, all the processes in between will be eliminated and results will be available at the press of a button," he said, adding that whoever questions the result can challenge it in the Election Commission of Pakistan from the paper trail produced.
He further added that with the exception of the 1970s, all general elections were made controversial and no one accepted them.
"For the first time a system would be introduced that a people can trust," the PM asserted.
COMMENTS
Comments are moderated and generally will be posted if they are on-topic and not abusive.
For more information, please see our Comments FAQ