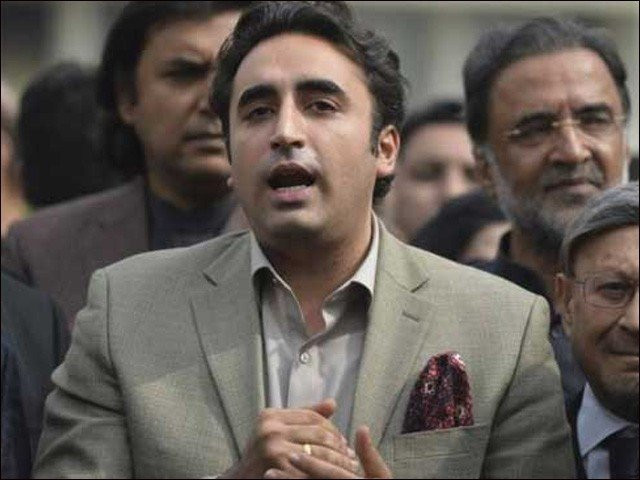 ---
MUZAFFARABAD:
PML-N Vice President Maryam Nawaz on Friday alleged that Prime Minister Imran Khan was doling out money to "buy votes".
Also, PPP Chairman Bilawal Bhutto-Zardari unleashed a trenchant criticism of the ruling PTI and the PML-N over what he called taking "U-turns" on Kashmir issue.
The two mainstream political were addressing rallies in the run-up to the July 25 AJK general elections.
Addressing a rally in AJK's Pattaka, the PML-N leader laced into the premier for trying to rig the polls, urging the people to "catch" the prime minister if he attempted to steal the elections, "like people caught manipulators in the Daska by-polls".
Maryam castigated the premier "who had completely thrown Kashmir into the laps of India", claiming he had laid down his arms and "struck a deal".
Read Maryam warns of Islamabad sit-in if AJK polls rigged
She said that she wanted to ask the prime minister as to who gave him the "right to sell the blood of Kashmiris, after selling Kashmir".
Addressing a rally from Azad Jammu and Kashmir's (AJK) Islamgarh as part of the party's campaign for the July 25 elections, Bilawal said that Kashmiris will not take dictation be it from New Delhi or Bani Gala, an area of Islamabad where Prime Minister Imran Khan resides.
"Our Jiyalas [PPP workers] will make them (PML-N and PTI) run away from Kashmir... we're not like them... we do not take U-turns like these two parties," he added.
The PPP leader said that the PTI's policy about Kashmir has been confused from day one. "Imran Khan takes U-turn on Kashmir. First, he says that until the August 5 move is reversed, we will not talk [with India] but later, he says trade with India is necessary."
Taking aim at former ally the PML-N, he said that the party is also confused. "The PML-N has two narratives. We ask them, 'are you following the narrative of bare miyan sab (Nawaz Sharif) or chote miyan sb (Shehbaz Sharif)' but we don't get a clear answer. Do you want to give your vote to such a confused party?" he asked the participants.
COMMENTS
Comments are moderated and generally will be posted if they are on-topic and not abusive.
For more information, please see our Comments FAQ