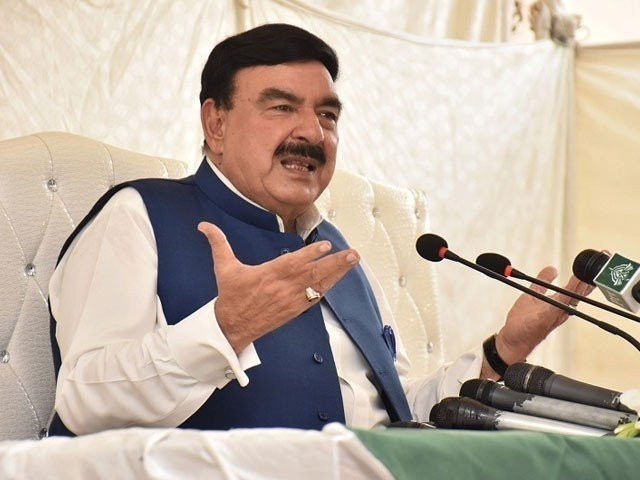 ---
ISLAMABAD:
Interior Minister Sheikh Rashid said on Thursday that the government has decided to register all foreign nationals arriving in the country and will allow them to open bank accounts through a special card.
The interior minister, during his visit to the National Forensic Science Agency in Islamabad, said a new 'alien card' will be issued to foreign nationals and they will be able to use the card for opening local bank accounts.
He said there is no record of thousands of foreigners, who entered the country during the last seventy years.
Rashid said the Torkham border will be reopened for the purpose of vaccinations. "We will soon formalise a plan to rescue 4,000 to 5,000 people stranded at the Torkham border," he added. The minister observed that Afghanistan's Covid-19 situation was quite severe.
Speaking in regards to drug smuggling, Rashid said the government is about to take a major step to stop the smuggling of illicit drugs in the country. "Drugs are not smuggled from Pakistan internationally, but from foreign countries to Pakistan."
Read Geopolitics around a changed Afghanistan
He also reiterated that there will be no dialogue with India unless New Delhi withdraws the decisions of August 5. "We condemn what happened today in Kashmir on the anniversary of Burhan Wani's martyrdom."
Referring to the upcoming elections in Azad Jammu & Kashmir, the minister confirmed that Prime Minister Imran Khan will be visiting the region for the election campaign.
"I will also participate in the campaign and go with the premier," he said, adding that the ruling Pakistan Tehreek-e-Insaf will form its government in the region.
To a question regarding the banned Tehreek-e-Labbaik Pakistan (TLP), Rashid said that a file related to the outfit is being sent to the Cabinet, which will decide the organisation's fate.
COMMENTS
Comments are moderated and generally will be posted if they are on-topic and not abusive.
For more information, please see our Comments FAQ