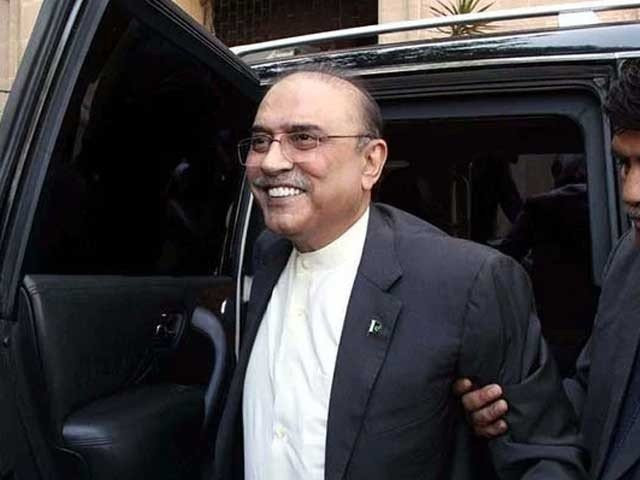 ---
ISLAMABAD:
Former president Asif Ali Zardari has said the domicile of former premier Nawaz Sharif is better than his domicile in what appears to be an oblique criticism of the alleged dual standards of the powers that be for the political leaders of smaller provinces.
"Mian sahib's [Nawaz Sharif's] domicile is better than mine," Zardari – who belongs to Sindh – said on Wednesday when a reporter noted that he, Zardari, is ill but still in Pakistan but Nawaz Sharif is abroad.
Convicted former premier Nawaz Sharif was given a rare permission to get medical treatment in London in view of his ailment during his incarceration in October 2019.
Zardari, who is also facing multiple cases of corruption and is reportedly ill, appeared on Wednesday before an Islamabad High Court (IHC) bench which granted him a pre-arrest interim bail in a National Accountability Bureau (NAB) case pertaining to his flat in Manhattan.
The country's top graft buster recently opened another investigation against the PPP supreme leader in connection with his alleged apartment in the US and sought his response by July 24.
Read 'Borrowed' govt doesn't actually exist: Asif Zardari
In its notice, NAB told Zardari that his apartment in Manhattan had not been declared in Pakistan and prima facie, no legal money was sent abroad for buying the said apartment.
In view of the notice, Zardari approached the IHC for a pre-arrest bail in the case. However, the IHC on Tuesday asked the former president to appear before the bench in person. And on Wednesday the bench granted the PPP leader an interim bail till July 28.
Responding to journalists' questions outside the court, Zardari said they should ask PPP Chairman Bilawal Bhutto Zardari whether the party would now pursue a politics of resistance or reconciliation.
"Bilawal is the captain now," he replied when a journalist asked him if he had retired from politics.
When asked if he would once again ask PML-N supreme leader Nawaz Sharif to return to Pakistan, he said he would not make any suggestions now. "It is up to him whether he returns or stays abroad."
The former president during an opposition parties' alliance meeting told the PML-N that the PPP would accept their call for tendering resignations from legislatures only when Nawaz Sharif returns to Pakistan.
COMMENTS
Comments are moderated and generally will be posted if they are on-topic and not abusive.
For more information, please see our Comments FAQ