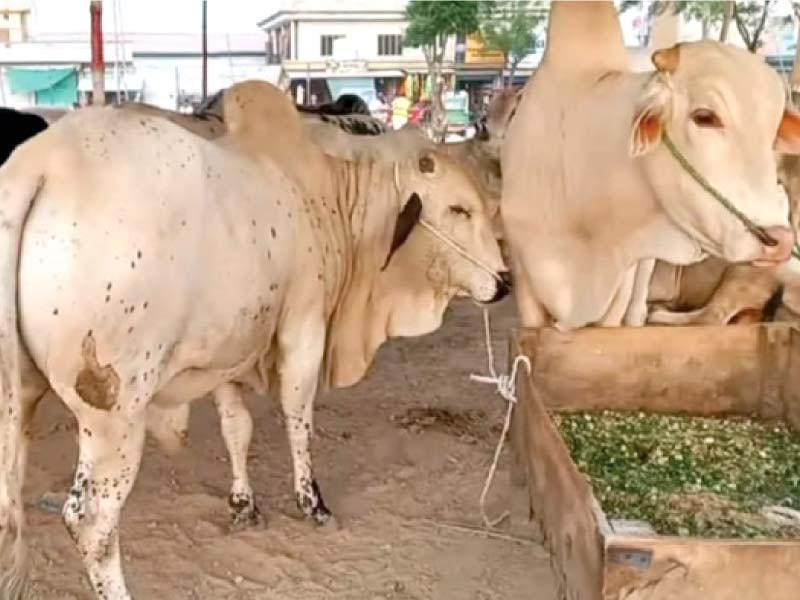 ---
RAWALPINDI:
The contracts for all nine cattle markets in Rawalpindi have been auctioned for Rs84.44 million. After assuming charge of the cattle markets, the contractors have imposed a tax. After imposition of the tax, the cattle traders have raised their prices resulting in the high rate of animals.
The cattle market in the city officially opened on Saturday. These cattle markets were auctioned under an open bidding system and the highest bidders were awarded the contracts.
The local government, during the auction, instructed the bid winners to arrange suitable space for the animals, provide sufficient water for the sacrificial animals, proper security, an electricity standby system, parking and other facilities.
Read Camels dazzle at cattle market
Officials in the city administration told The Express Tribune that this year the Punjab government has earned 3% more from market auctions compared to the preceding year. The officials said that an entry tax will be levied on vendors coming to the markets this year. The big sacrificial animals, including oxen, cows, calves, and camels will be charged Rs3,000 per head which is Rs1,000 more than last year. The entrance fee for small animals like goat, sheep have been fixed at Rs2,000 which is Rs1,500 more than last year. The increase in levy on per animal is likely to lead to an increase in animal prices.
On the other hand, the buyers are already worried about high prices, saying that it will be difficult for them to perform this religious obligation this year.
The citizens were of the view that the enforcement by the contractors of a system in the markets of their choosing would give them unlimited powers and the employees of the contractor would be a law unto themselves. They added it will not only make it difficult to do business in the market but would also cause great inconvenience to buyers.
The citizens have demanded that the provincial government should direct the contractors to reduce the tax they have levied on the entry of sacrificial animals so that the traders reduce their prices and people can afford to buy sacrificial animals.
Published in The Express Tribune, July 4th, 2021.
COMMENTS
Comments are moderated and generally will be posted if they are on-topic and not abusive.
For more information, please see our Comments FAQ