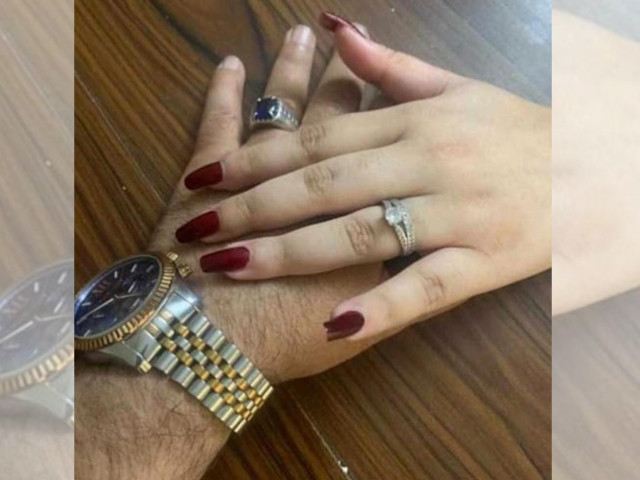 ---
KARACHI:
After popular TikToker Hareem Shah's marriage announcement photograph went viral on social media, lawmakers in the Sindh Assembly and the media were intrigued to unearth the identity of the PPP minister whose hand was pictured in the post.
While none of the MPAs accepted having tied the knot with Hareem, there were plenty who denied any such development in their lives.
"Believe me, I am not the man," PPP MPA Yousaf Baloch said. "See my hand and wristwatch," he said during a chat with a journalist.
When another provincial minister, Raja Razzaque, reached the assembly premises and came out of his car, he smiled while looking at journalists who seemed eager to ask him the same question. "As much as my heart desired it, it is not me," he joked.
Read more: TikToker Hareem Shah has tied the knot
He was also probed about his wristwatch which looked strikingly similar to the one worn by the man in the post. "There is a little difference. I also looked at it again and again with doubt as to whether if it was my watch. I assure you that there is another lucky man, not me."
PPP's Sajjid Jokhio saluted the mystery groom for tying the knot. The day started with all MPAs being questioned. During the press conference, reporters asked Sindh Education Minister Saeed Ghani about the marriage. He put up his hand and told the media to take a good look at his watch and hand, which would prove he was not the man in the picture.
A woman MPA of the PPP, while responding to a media question, suggested tracing the man who was attached to the hand with the help of NADRA. "If you are so curious, please go to the authority," she said.
Earlier, some PTI leaders took to social media and claimed PPP MPA Zulfikar Shah from Mirpurkhas was the groom. They also congratulated the parliamentarian. However, Hareem issued a statement and condemned the campaign against him
"This is propaganda against me because I have exposed the PTI's leader of the opposition in the assembly. This is an act of revenge."
COMMENTS
Comments are moderated and generally will be posted if they are on-topic and not abusive.
For more information, please see our Comments FAQ