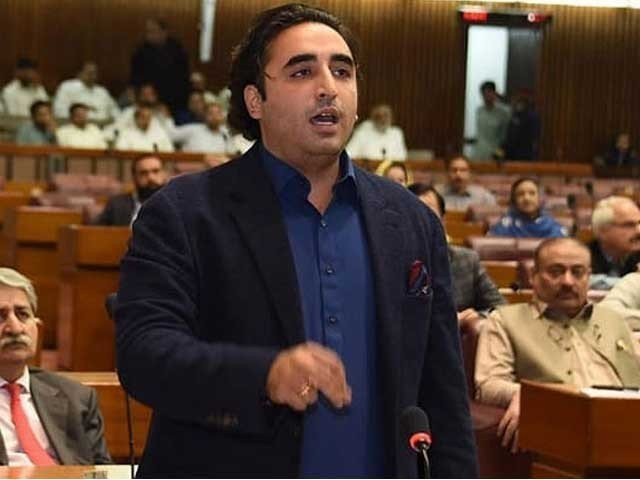 ---
ISLAMABAD:
PPP Chairman Bilawal Bhutto Zardari on Tuesday termed Prime Minister Imran Khan's remarks on women's dressing "unfortunate", a couple of days after the premier in an interview spoke about the reasons for the rising cases of sexual violence.
Talking to reporters at the Parliament House, the scion of the Bhutto dynasty said PM Imran held the post of premier of the country and that was why he should weigh every word as he spoke.
Also read: PM Imran says wearing 'few clothes' in a society like Pakistan's may lead to rape, Twitter disagrees
"Clothing has nothing to do with rape," he added.
"There should be a uniform law for the [sexual] abusers and the survivors."
Bilawal further said the "trend of victim blaming" that had started in the country was a dangerous one.
"We should always support the survivor and not give any excuse to the perpetrator," he added.
"When a prime minister says such things, the message that goes across is that you are justifying the culprit for the crime they have committed and holding the survivor responsible for it."
Also read: Survivors share what they wore after PM Imran blames women's clothing for rape
The PPP chairman further said our culture and religion taught us how to dress.
"You should compare his [PM Imran] statements before he came to power with what he is been saying now."
He pointed out that PM Imran did not even have the courage to call out a "terrorist".
"He is a coward from day one. He is not even ready to call [former TTP spokesman] Ehsanullah Ehsan a terrorist, the man responsible for the death of children in the Army Public School attack."
He also referred to remarks by Foreign Minister Shah Mahmood Qureshi during an interview, when he was asked to clarify whether or not he thought slain al-Qaeda chief Osama bin Laden was a martyr.
"Osama bin Laden tried to attack then prime minister [Benazir Bhutto] in 1993 through Ramzi Yousef," he added.
"Doesn't Imran Khan know that bin Laden tried to revolt in the name of Islam in 1994?"
Also read: PM Imran's OBL remarks played up by a section of media: Qureshi
Bilawal said that bin Laden was the person who portrayed Islam in a negative light.
He said Islam was a peaceful religion and urged PM Imran to review his policies.
In an interview on HBO -- aired on Axios' website on Sunday – the premier had said: "If a woman is wearing very few clothes, it will have an impact on the men, unless they're robots. I mean it is common sense."
He was responding to a question as to whether he thought what women wore had any effect on the temptation that led to rapes.
Confused, the interviewer rephrased his question, "But is it really going to provoke acts of sexual violence?" Maintaining his stance, PM Imran proceeded to elaborate, "It depends on which society you live in."
He added that: "If in a society people haven't seen that sort of thing, it will have an impact [on them].
Growing up in a society like yours, maybe it won't impact you. This cultural imperialism… whatever is in our culture must be acceptable to everyone else."