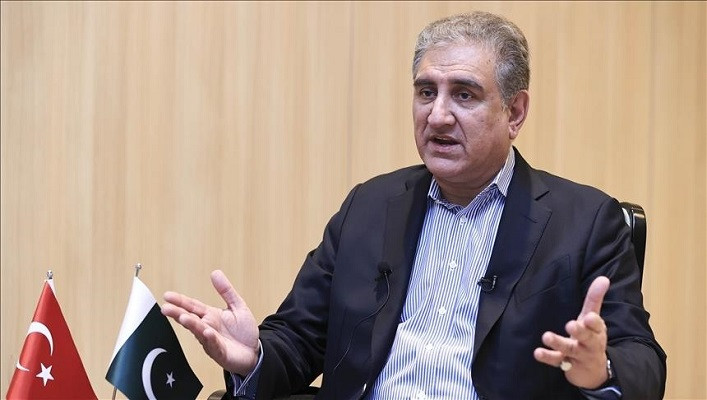 ---
Foreign Minister Shah Mahmood Qureshi has said that Prime Minister Imran Khan's last year statement related to slain al Qaeda chief Osama bin Laden was quoted out of the context.
"Out of context… he was quoted out of context. And, a particular section of the media played it up," said Qureshi when Afghanistan's Tolo News anchor said PM Imran had called Osama bin Laden a 'martyr'.
The interviewer then asked Qureshi if he considered Bin Laden a martyr. "I will let that pass," the foreign minister responded after a brief pause.
Reporter: Is Osama Bin Laden a martyr??
Shah Mehmood Qureshi, the great orator, thought about it hard and then let that pass.pic.twitter.com/Opgcq2ypQI

— Waseem Abbasi (@Wabbasi007) June 20, 2021
Last year, the prime minister while addressing the National Assembly session had said that Pakistan had to face humiliation when US forces came to Abbottabad and "killed, martyred" Osama bin Laden.
#BREAKING: Pakistan PM Imran Khan calls Global Terrorist Osama Bin Laden a shaheed (martyr) inside Pakistan National Assembly. Khan says, US came inside Pakistan and killed and martyred Osama Bin Laden. Says, Pakistan has faced humiliation for more than 10 years in war on terror. pic.twitter.com/qnNqrvBvDA

— Aditya Raj Kaul (@AdityaRajKaul) June 25, 2020
PM Imran's apparent slip of the tongue stirred a controversy with opposition parties lashing out at him for using the word martyr for Bin Laden.
His political communication aide, Shahbaz Gill termed the criticism as an "unwarranted attempt" to create a controversy.
"Referring to PM's speech in NA today, it is clarified that PM twice used the word 'killed' for Osama bin Laden. An unwarranted attempt is being made at home/abroad with a clear intent to make his remarks controversial unnecessarily," Gill wrote on his official Twitter handle.