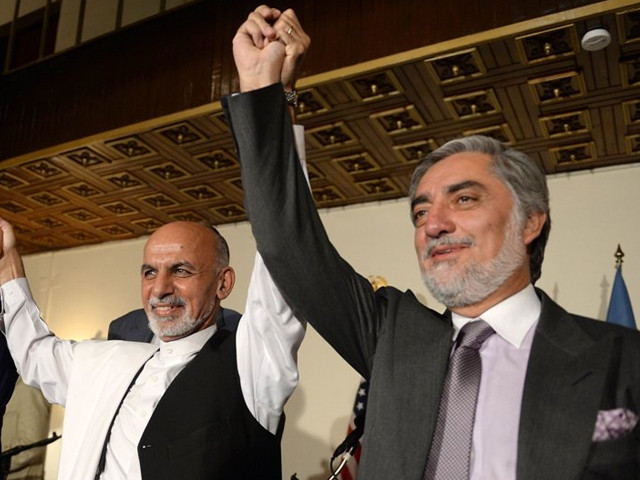 ---
ISLAMABAD:
When US President Joe Biden meets Afghan President Ashraf Ghani and Chairman Afghan High Peace Council Dr Abdullah Abdullah at the White House this week, it is not just the future of the war-torn country but also Pakistan's role will be the main talking points.
Ahead of the all-important visit, Pakistan reached out to the Afghan government conveying it in clear terms that the upcoming visit must not be used to blame Islamabad, officials told The Express Tribune on Tuesday.
It is because of this reason that Pakistan's ambassador to Kabul not only met Afghan leaders from across party lines but Foreign Minister Shah Mahmood Qureshi also interacted with Dr Abdullah as well as his Afghan counterpart Hanif Atmar at the sidelines of the recent Antalya Diplomacy Forum in Turkey.
Also read: Afghanistan — where lies Pakistan's interest?
Officials while speaking on condition of anonymity said that Pakistan fears that "spoilers" within the Afghan setup may use the upcoming visit of President Ghani and Dr Abdullah to blame Islamabad for the failure.
FM Qureshi at the recent Afghan Track-11 dialogue minced no words when he stated that President Ghani might use the upcoming visit to the White House to blame Pakistan.
"If the objective [President Ghani's visit] is to start a new blame game and hold Pakistan responsible for all the ills, I think it will not help. It's a shared responsibility and no one is going to buy this anymore. We will not take any responsibility. We have been accused enough," he added.
Also read: Likely scenario in Afghanistan post-Sept 2021
Foreign Office spokesperson Zahid Hafiz Chaudhri in a separate statement said: "The visit by Afghan leaders to Washington DC is a bilateral issue. However, I wish to reiterate our hope that the US will continue its engagement and efforts for the success of Afghan peace process. Peace in Afghanistan remains a shared objective."
The White House said President Ghani and Dr Abdullah's visit would highlight an "enduring partnership" between the United States and Afghanistan as the military drawdown continues.
But since President Biden announced to withdraw all US troops from Afghanistan by September this year, the Afghan Taliban have made rapid strides as they took control of 30 districts Since May 1.
The Taliban, meanwhile, reacted to the visit and termed it "useless".
"They [Ghani and Abdullah] will talk with the US officials for preservation of their power and personal interest," Taliban spokesman Zabihullah Mujahid said. "It won't benefit Afghanistan."
Also read: Pakistan's Afghanistan challenge
As the peace process hangs in the balance, there are elements in the Afghan government which have already started pointing a finger at Pakistan. The Afghan National Security Adviser and the Afghan vice president in particular in recent weeks issued scathing statements against Pakistan.
The Afghan NSA's repeated diatribe accusing Pakistan for using Afghan Taliban as proxy has compelled Islamabad to sever all official links with Hamdullah Mohib.
Pakistan has also warned that such baseless allegations would only undermine peace efforts.
Also read: Pakistan and growing security vacuum in Afghanistan
Given the trust deficit between the two countries, officials said, Islamabad would closely follow the visit of Afghan leadership to the White House. While President Biden has been interacting with the Afghan leadership, he has not yet reached out to Prime Minister Imran Khan.
When asked the same at a recent interview by an American media outlet, PM Imran said President Biden might have other priorities at this stage.
But observers find this approach by the Biden administration as perplexing given the critical and important role Pakistan has in any Afghan peace deal.