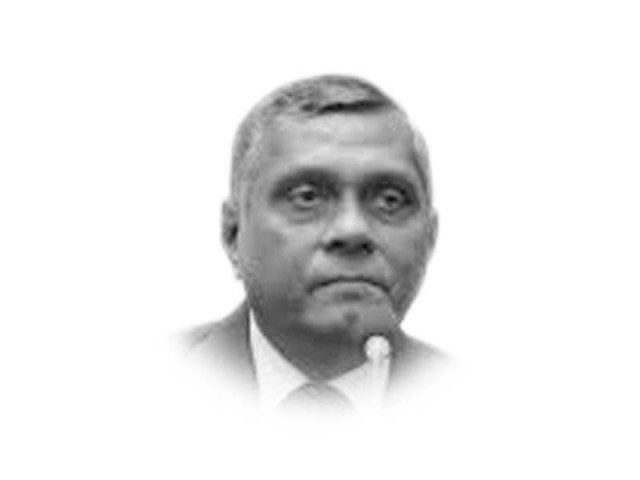 ---
Back-to-back events in the last one month tend to deepen the dangerous security situation in Afghanistan. While the ongoing withdrawal of US/Nato forces from Afghanistan is set to create security vacuum in the conflict-ridden country, the inability of the Afghan government and Taliban to reach an agreement for peace and stability is another dimension of an uncertain future of Afghanistan.
The postponement of Istanbul conference which was to be held in April and the stalemate in intra- and inter-Afghan dialogue must be taken seriously. Taliban's refusal to participate in the Istanbul meet and the growing confidence in their rank and file that they can take control of the rest of Afghanistan is another evidence of an impending surge of violence leading to a large-scale civil war. Pakistan bashing by Afghan President Ashraf Ghani and his National Security Adviser Hamdullah Mohib has deepened polarisation in the bilateral ties. In this scenario, Afghanistan's dangerous situation and the growing security-strategic vacuum need to be analysed from four angles.
First, Taliban's adamant behaviour in response to Pakistan's repeated requests to engage in peace talks, particularly the Istanbul conference, reflects the latter's diminishing leverage over the former. Taliban's demand for release of their 5,000 fighters — made to the US at the time of Doha agreement of February 2020 — remains largely fulfilled. And now they want all their men in the government captivity to be released and are not ready for a dialogue with the Ghani administration unless that happens. On the flip side, the Taliban leadership is handing out assurances to those Afghans who had worked for American or western contractors and companies that they should not feel insecure or expect reprisals provided that they express regret over their collaboration with foreign partners. But, the fear factor among those Afghans who expect large-scale retaliation from Taliban if they come to power cannot be underestimated. Taliban's intransigent behaviour is also evident from their rejection of political process, democracy and the Afghan constitution as they firmly believe that after the withdrawal of US/Nato forces in coming weeks, they will be in a better position to topple the fragile Kabul regime and establish what they call the Islamic Emirate of Afghanistan.
Second, the Afghan situation is transforming into a dangerous once because of the non-serious and irresponsible attitude of the international community, particularly the permanent members of the UN Security Council. They are unable to take initiatives for a viable Afghan peace plan which can preclude surge in predictable violence and outbreak of civil war. How can one prevent a humanitarian crisis in the shape of refugees, displacement of people, violence, civil war and terrorism when the US/Nato forces will pull out? Rudimentary measures, like assigning responsibility to Turkey to ensure the security of the Kabul airport, will not work particularly when Taliban would besiege major cities and towns of Afghanistan, eventually leading to the occupation of urban populated centres.
Major global players seem to be acting in the same way as done after the signing of the Geneva Accords of April 14, 1988 and the subsequent withdrawal of Soviet forces from Afghanistan in February 1989. At that time, the Soviet military withdrawal caused security vacuum, leading to civil war in Afghanistan. And 23 years down the road, it seems history is ready to repeat itself because of the irresponsible and imprudent role of the UN Security Council. This time around, the withdrawal of US/Nato forces from Afghanistan is all set to cause security vacuum, threatening another cycle of civil war, even deadlier than in the 1990s. However, it is believed that it is not going to a walkover for Taliban this time, and the Afghan National Army (ANA) should not be underestimated over its capability to confront the Taliban. Half of the Afghan territory is believed to be held by ANA, 30% by Taliban, and the rest of 20% is contested between Taliban and the ANA. In this scenario, it is high time for the UN Security Council, Nato, G-7 and Afghan neighbour states to work for putting Afghanistan under the supervision of UN peacekeepers. In fact, the deployment of UN peacekeeping force should have taken place after the Soviet withdrawal in 1989 but at that time the UN and the US ditched Afghanistan, a mistake they must not repeat.
Third, it appears that Pakistan's predicament because of Afghanistan's dangerous situation will augment with each passing day, like in the past. Prime Minister Imran Khan has repeatedly warned of an impending security vacuum in Afghanistan in the wake of the withdrawal of US/Nato forces. India's role in Afghanistan is also a source of alarm for Pakistan. Since the overthrow of the Taliban regime by the US in October 2001, India managed to re-enter Afghanistan in a big way and entrenched its security, political and economic interests by making huge investments in infrastructure development and awarding scholarships to thousands of Afghan students to study in Indian educational institutions. In view of the growing Indian influence in Afghanistan during the tenures of Presidents Hamid Karzai and Ashraf Ghani, Pakistan complained to Kabul about India's involvement in Pakistan through its embassy and consulates. Islamabad accused India of sponsoring the banned TTP and Baloch nationalists to carry out sabotage and terrorist activities in Pakistan. It is quite likely for India to again try to align with the former Northern Alliance and other anti-Taliban forces so as to prevent Taliban from taking control of Kabul. India can also play a double game by pretending to negotiate with Taliban. Anti-Pakistan rants by Ghani and Mohib can also be attributed to India's attempt to embarrass Islamabad through repeated Afghan allegations.
Finally, it would be a major test for Pakistan on how it copes with an impending civil war in Afghanistan, particularly the threat of ransacking the 'fence' erected along the Pak-Afghan border. Would the 'fence' be able to prevent attempts by a large number of Afghans to sneak into Pakistan? Transnational terrorist groups like Islamic State and Al-Qaeda may also attempt to enter Pakistan in the garb of Afghan refugees. Therefore, Pakistan must call an urgent meeting of the UN Security Council to discuss the situation emanating from the troop withdrawal from Afghanistan. Pakistan should demand deployment of UN peacekeeping force in Afghanistan, with full mandate, so that a predictable cycle of violence could be averted. Also, Pakistan must not accept the US request for using military bases in Pakistan to serve its strategic and security interests in Afghanistan. Enough damage has been caused to Pakistan because of its involvement in the US-sponsored Afghan jihad during 1980s and its joining the American-led war on terror after 9/11. Pakistan must not make any more compromises on its national interests and security for any monetary benefits whatsoever.
Published in The Express Tribune, June 13h, 2021.
Like Opinion & Editorial on Facebook, follow @ETOpEd on Twitter to receive all updates on all our daily pieces.
COMMENTS
Comments are moderated and generally will be posted if they are on-topic and not abusive.
For more information, please see our Comments FAQ