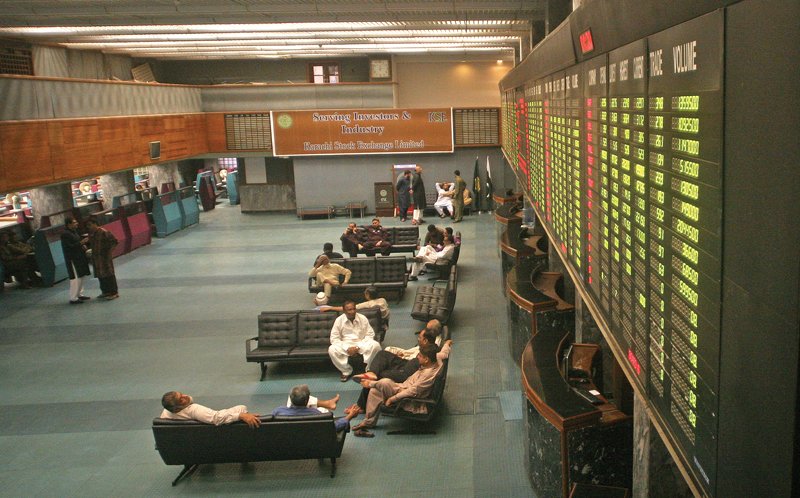 ---
KARACHI:
The stock market came under pressure on the first trading day of rollover week on Monday with the benchmark KSE-100 index recording a decline of nearly 230 points.
There was anxiety in the market over the four-day Financial Action Task Force (FATF) plenary session, starting Monday, to review Pakistan's performance on the anti-money laundering and terror financing action plan.
Despite hopes for the country's removal from the FATF grey list, investors remained cautious and avoided taking fresh positions during the trading session.
Monday also saw the start of futures rollover week, which pushed investors to cover their positions. Moreover, uncertainty in global markets added fuel to the bearish trend.
The KSE-100 index opened positive and climbed to intra-day high of 132 points before succumbing to widespread selling, led by cement and exploration and production sectors.
At close, the benchmark KSE-100 index recorded a decrease of 226.15 points, or 0.47%, to settle at 48,012.52.
Arif Habib Limited, in its report, stated that the market traded in a narrow range of +132 points and -275 points. It closed the session down by 226 points.
"Uncertainty prevailed during the session due to concerns over increase in oil prices, which would fuel inflation, as well as increase in rupee-dollar parity, which pushed investors to take a cautious approach," the report said.
Despite an increase in cement prices, the cement and steel-sector stocks lost ground. Crude oil prices remained largely stable, however, the exploration and production sector came under selling pressure.
Sectors contributing to the performance included cement (-64 points), chemical (-25 points), fertiliser (-24 points) and oil and gas marketing companies (-20 points).
Individually, stocks that contributed positively to the index included Systems Limited (+19 points), FrieslandCampina Pakistan (+12 points), Meezan Bank (+6 points), Sui Northern Gas Pipelines (+6 points) and Hubco (+6 points).
Stocks that contributed negatively were Lucky Cement (-33 points), Pakistan State Oil (-22 points), MCB (-20 points), Colgate-Palmolive (-15 points) and Engro Corporation (-14 points).
JS Global analyst Maaz Mulla said that despite opening on a positive note, the KSE-100 index could not sustain the momentum and fell victim to across-the-board profit-taking.
The market remained under pressure for most of the first day of rollover week as it slid 226 points to close at 48,012.
"Pak Suzuki Motor Company (+2.6%) from the auto sector gained to close higher on the back of news that the government might extend tax relief for cars up to 1,000cc in the recently proposed Finance Bill, with the aim of promoting affordable cars and localisation in the country," he said.
Selling pressure was witnessed in the cement sector where Flying Cement (-1.5%), Pioneer Cement (-1.9%), DG Khan Cement (-1.5%), Maple Leaf Cement Factory (-1.1%) and Fauji Cement (-1.2%) lost ground.
"Going forward, we recommend investors to adopt a 'buy-on-dip strategy' in construction and refinery stocks," the analyst said.
Overall trading volumes surged to 839.2 million shares compared with Friday's tally of 750.6 million. The value of shares traded during the day was Rs15.9 billion.
Shares of 411 companies were traded. At the end of the day, 163 stocks closed higher, 233 declined and 15 remained unchanged.
Silkbank was the volume leader with 235.1 million shares, gaining Rs0.31 to close at Rs2.14. It was followed by Hum Network with 60.4 million shares, losing Rs0.25 to close at Rs8.87 and WorldCall Telecom with 58.5 million shares, losing Rs0.12 to close at Rs4.
Foreign institutional investors were net buyers of Rs2.4 million worth of shares during the trading session, according to data compiled by the National Clearing Company of Pakistan.