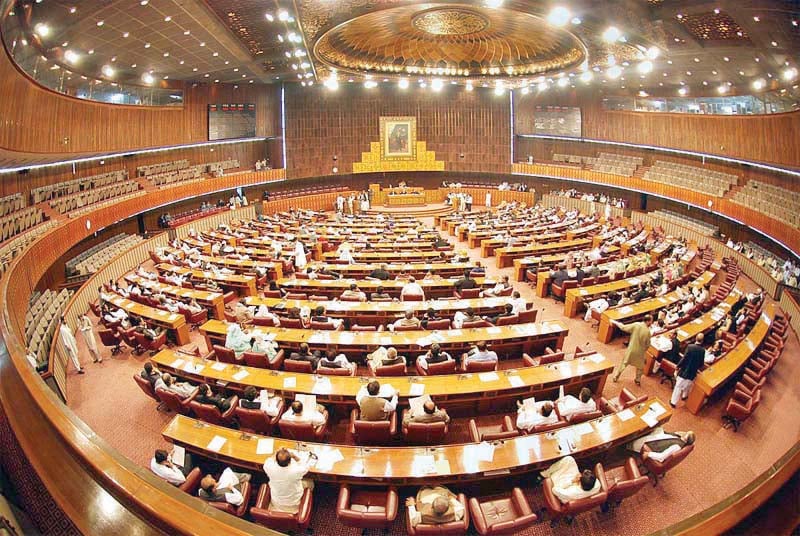 ---
ISLAMABAD:
The treasury and opposition members in the National Assembly on Saturday continued to remain at loggerheads in the budget session despite recent efforts to dial down the tensions.
Chaired by presiding officer Amjad Ali Khan, the inconclusive budget session was marred by a heated exchange between government and opposition members as both kept digressing and engaged in irrelevant matters, instead of debating the budget.
Members of the ruling PTI dubbed the budget "people-friendly" and claimed it rid people of tax and aimed to enhance development and prosperity, while the opposition dismissed the accomplishments as a "mere figment of imagination".
Recording his protest against the use of expletives and foul language by government members and ministers, PPP MPA Abdul Qadir Patel said the events that took place in the House in the last few days were deplorable.
He blasted the government's claims about budget and economic progress and said the growth figures projected by the incumbent regime were unfounded, adding "ill-conceived" policies had led to record inflation and unemployment in the country.
Responding to the opposition's criticism, PTI's Niaz Ahmad Jakhar claimed it was the first time that the country had seen a tax-free budget.
He said the government had gone to great lengths to provide relief to the masses. The situation will further improve in the days to come, he added.
Firing a broadside at the ruling PTI, PML-N leader Khurram Dastagir said the government stood on three pillars: "lies, fascism, and propaganda".
He alleged that Prime Minister Imran Khan was trying to give airbases to the United States after the latter's withdrawal from Afghanistan and "was trying to bargain the Kashmir issue against the aspirations of its people".
Rebutting the charges, Parliamentary Committee on Kashmir Chairman Shehryar Khan Afridi said, "No one can dare to launch drone attacks on our land during the PTI's rule," and said it was, in fact, the past governments of PML-N and PPP which put the country's sovereignty at risk.
"The Kashmiri Hurriyat leadership is of the view that due to the opposition's baseless claims about a deal on Kashmir, Kashmiris in the occupied land are losing their morale," Afridi added.
MNA Mohsin Dawar said the minimum wage of Rs20,000 announced in the budget was insufficient, suggesting it should be reviewed. He asked the government to fulfill promises made for the development of tribal districts.
Raja Khurram Shahzad Nawaz lauded the government's finance team for presenting "a pro-people budget against all odds faced by the country during the Covid-19 pandemic".
He said the budget gave relief to sectors including farmers and industrialists.
Rukhsana Naveed said the PTI government was making "sincere efforts" to uplift the economy and improve the country's image.
COMMENTS
Comments are moderated and generally will be posted if they are on-topic and not abusive.
For more information, please see our Comments FAQ