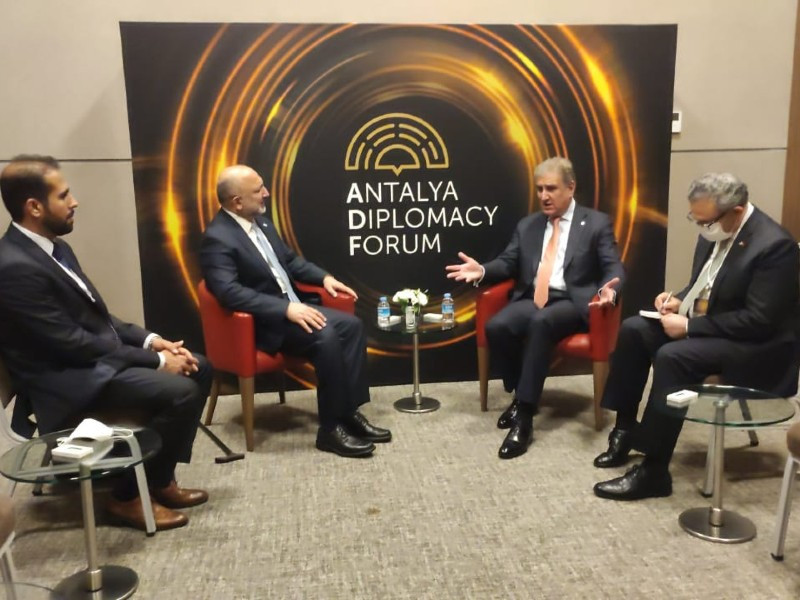 ---
ANTALYA, TURKEY:
Foreign Minister Shah Mahmood Qureshi has said that he would seek more details of Turkish President Recep Tayyip Erdogan's proposal for the security of Kabul Airport after the withdrawal of foreign forces from Afghanistan.
In an interview with Anadolu Agency on the fringes of the three-day Antalya Diplomacy Forum being held in the Turkish Riviera city of Antalya, the minister called for a systematic and responsible withdrawal of the US forces.
President Erdogan revealed earlier this week that his country was in talks with Pakistan and Hungary to jointly provide security for the Kabul International Airport. When asked about the proposal in the interview, Qureshi said that Pakistan had always been very comfortable with Turkey.
"Whether it's Turkish forces, the Turkish Foreign Ministry, Turkish leadership. We have a very, very comfortable relationship," he said. President Erdogan made a statement … I might get an opportunity to have a word with him over there to find out what is on his mind," he added.
The US, which invaded Afghanistan in 2001 after terrorist attacks in New York and Washington, is set to withdraw its troops by September 11 this year. Qureshi stressed that the US should withdraw systematically from Afghanistan to prevent what happened in the 1990s there from recurring.
Read No meeting of Pakistani, Indian NSAs on the cards in Dushanbe
"If [the US] withdrawal is not systematic, we are concerned that Afghanistan may get sucked into the situation that we experienced in the 1990s, when there was anarchy, civil war, instability," he added, referring to years of civil war in Afghanistan, following withdrawal of Soviet forces from there.
In a separate interview with TRT World on Saturday, Qureshi also said that Pakistan was keen to see both the Afghan peace process and withdrawal of troops advancing in tandem but in fact there was a disconnect between the two.
"What I am seeing is that the withdrawal is taking place at a fairly rapid pace but peace process is moving ahead at snail pace. And that is a bit disconnect over there. And that is of concern to me," the foreign minister said.
Regional Cooperation
The Antalya Diplomacy Forum, with Anadolu Agency as its global communication partner, is hosting 10 heads of state and government, 42 foreign ministers, three former heads of state and government, and more than 50 representatives of international organisations.
Issues of global importance are being analysed in depth during the three-day forum, including the Balkans, the future of Europe, trans-Atlantic relations, refugees and migrants, the threat of terrorism and Turkey's proposal for an Eastern Mediterranean conference.
Participating in a panel discussion on 'Regional Cooperation in Asia', Qureshi called for a renewed focus on geo-economics by the Asian countries and stressed the need for promotion of a rules-based global order. The discussion was part of the Antalya Diplomacy Forum.
During the discussion, the foreign ministers foreign ministers of Kyrgyzstan, Malaysia, Tajikistan and Uzbekistan called for increased multilateralism to deal with the challenges faced by Asia and agreed on the need for a renewed focus on transit and connectivity projects in the region.
Read more US should systematically withdraw from Afghanistan: FM Qureshi
On the sidelines of the forum, the foreign minister held bilateral meetings with his counterparts from Iran, Kuwait and Malaysia on Saturday and discussed with them measures to enhance collaboration on issues of mutual interest.
Talking to Iranian Foreign Minister Javad Zarif, Qureshi expressed the hope that the Afghan parties would realise the opportunity and workout an inclusive politically negotiated settlement. Qureshi congratulated Zarif on the successful conclusion of Presidential elections in Iran.
Qureshi discussed the entire gamut of bilateral relations meeting with Kuwaiti Minister of State Sheikh Ahmed Nasser Al-Mohammed Al-Sabah. Qureshi welcomed the ease in visa restrictions for Pakistani nationals by the government of Kuwait.
Meanwhile, Qureshi held talks with his Malaysian counterpart Hishammuddin Hussein on the sidelines of the diplomatic forum on Saturday and expressed the country's desire to enhance the bilateral cooperation in economy, trade, defence, education and technology transfer.
(WITH ADDITIONAL INPUT FROM APP)