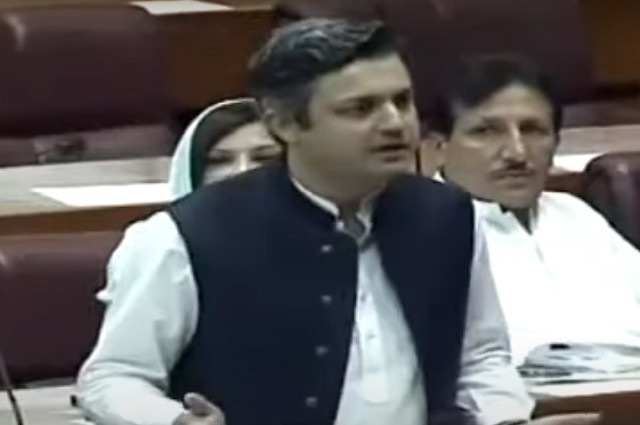 ---
ISLAMBAD:
In a rebuttal to a hard-hitting speech by PPP chairman Bilawal Bhutto Zardari in the National Assembly on Friday, Energy Minister Hammad Azhar said those who had never worked a day in their lives were telling the government about how to run the economy.
At the outset of his speech during the budget 2021-22 debate, the minister asked Leader of the Opposition in NA Shehbaz Sharif and the PPP chief to remain seated and listen to his response if they were not "cowards" as both the opposition lawmakers walked out of the House.
The energy minister lambasted the PPP leader for calling the PTI government a 'puppet', asking if he wanted a government of convicts where people were remembered for their "scandals" instead of performance.
Hammad told the house that the PTI had not come to power through bribery. He then took a jibe at the PPP chairperson, saying: "The stains of corruption could not be washed off by speaking in English."
Replying to the criticism on the issue of inflation and the claims of economic growth, the minister reminded the PPP that it could never achieve 4% growth during its tenure.
Read GDP growth expected to reach 6% by 2023: Hammad Azhar
On allocation for Benazir Income Support Programme (BISP) in the budget, he said its chairperson was recently declared a proclaimed offender.
Hammad maintained that fuel prices were the lowest in Pakistan and Bilawal's claim that petrol price had been increased was incorrect. On agriculture, he told the House that the country had bumper crops of wheat, sugarcane and maize this year which was benefitting the farmers.
To Bilawal's statement that PTI lawmakers' were unable to visit their constituencies, he said the shortage of dog-bite vaccine and AIDS outbreak was not in their constituencies, but those of their opponents.
"If corruption had anything to do with development, then Sindh would have left California behind," Hammad quipped.
Describing Sindh government as a living example of corruption, the minister asked the lawmakers to visit the province to witness how "corrupt rulers" had ruin its people's lives and future.
He said the PTI government stabilised the economy in the first two years and the focus was now on growth, adding that the $20 billion current account deficit was in surplus now and the foreign exchange reserves were the highest in six years.