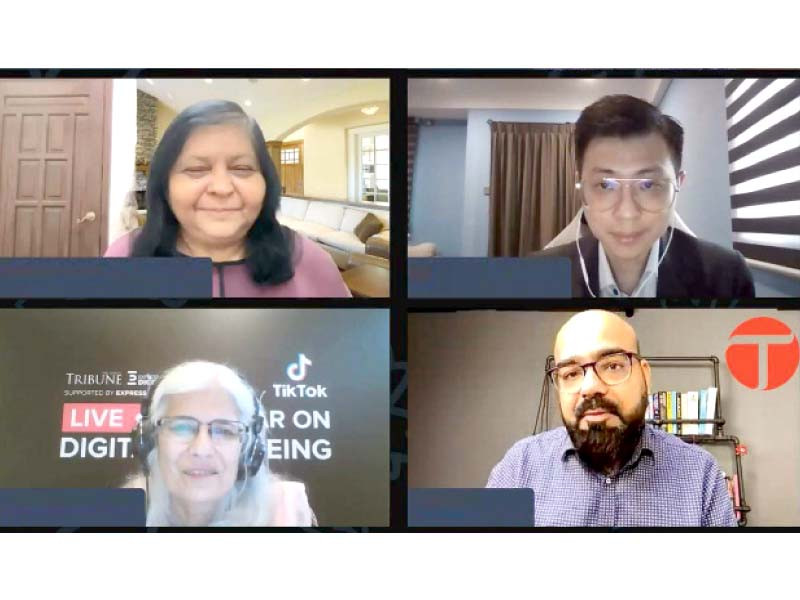 ---
KARACHI:
Media experts urged on Monday that citizens comprehensively read community guidelines of digital platforms before using them to upload content.
They were speaking at a webinar organised by the The Express Media Group and TikTok for awareness on using TikTok and other digital platforms and ensuring safety of the uploaded content.
Tik Tok Head of Safety and Trust Jamin Tan was the chief guest at the event while Tik Tok Safety Advisory Council member Jehan Ara and media influencer Junaid Akram also attended the webinar, which was moderated by senior journalist Afia Salam. The panel, apart from offering awareness on digital safety, presented expert opinions on ensuring content quality.
The experts said that Tik Tok is a leading destination on which short videos can be uploaded. They said Tik Tok helps to bind different communities and is also a medium for entertainment. The participants pointed out that safety features and policies were present on TikTok from day one to help users get comprehensive details on the features.
Read more: Media bodies reject ordinance aimed to 'muzzle freedom of press'
They said community guidelines have also been shared in detail. The users are monitored. Content found in violation of the guidelines is removed. Safety is crucial. A minor if detected to have created an account and uploaded content is monitored.
Junaid Akram shared on the occasion that he has been using Tik Tok for long and has also been uploading videos. The content creator further stated that he usually uploads informational and entertainment content on his account. "Tik Tok is a good platform, millions of people are using it, and the presence of community guidelines is welcoming. Access to remote areas of Pakistan via TikTok is possible. Now messages are being sent to people residing in far flung areas, which are good."
"I never upload irresponsible and unsafe content on my account. I offer comedy through messages. TikTok spreads among the communities at a fast pace, due to which I decided to use the platform. People of all ages are using the platform. My focus is primarily centred on education," he said. Akram added everyone enjoys the right to express themselves for which it is an excellent platform.
He said interesting content is uploaded on TikTok abroad, while government representatives of various countries are TikTok users and public service messages are also being disseminated via TikTok.
"There are parental guidelines on TikTok which need to be implemented. A few months back, I noticed that a few minors were removed from TikTok for uploading immoral content which is a responsible procedure. Creativity is a very effective feature for creative youngsters through, which they can portray their personality and showcase their talent to the world," Ara added.
Meanwhile, Afia Salam said that this webinar was held on TikTok, which is a new video platform and has widely grown in popularity among the public. "We had invited technology representatives, people associated with the technology industry and content creators to answer the questions of people."
"It is highly important for people to acquire all the information before using a platform. All content uploaded on TikTok is not posted by a technology company but is uploaded by the users. Every person is individually responsible for the content they are uploading," the journalist said.
Published in The Express Tribune, June 15h, 2021.