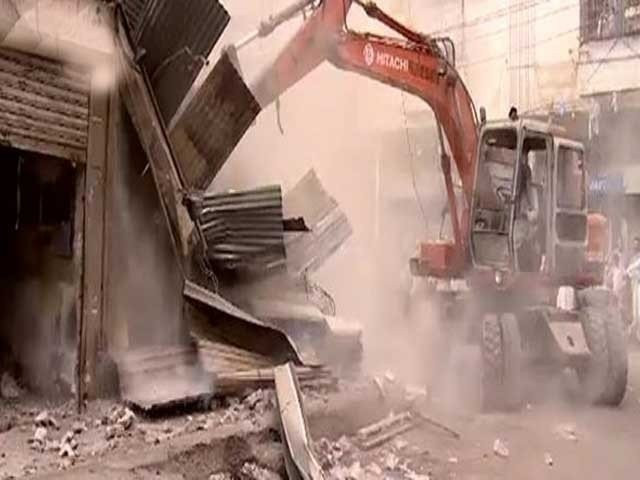 ---
KARACHI:
The Supreme Court (SC) on Monday ordered authorities to restart work to widen Gujjar Nullahs and the Orangi Nullahs stormwater drains and dismissed the area residents' plea against the anti-encroachment drive and request for compensation.
A three-member bench of the apex court, led by the Chief Justice of Pakistan Gulzar Ahmed, heard the cases pertaining to illegal encroachments in the port city and the Karachi Circular Railway at the SC's Karachi Registry.
As the affectees of the Gujjar and Orangi Nullahs anti-encroachment operation protested outside the court premises and demanded a 'house for a house', the apex court annulled all restraining orders against the anti-encroachment drive.
Read more: Demolition affectees leader ambushed, beaten up
Faisal Siddiqui, counsel for the affectees, said that the lease of the houses was given by KDA, Katchi Abadi Department and KMC.
"The Supreme Court has not given any order to build a road around the canals. In this regard, the decision of the Supreme Court is being misinterpreted," the counsel prayed.
A 10-foot-wide road will also be built on both sides of the drain after the encroachment drive.
Sindh's Advocate General said the width of the drain would not be affected after a new road is constructed along its bank. Justice Ijazul Ahsan replied that if a road was being constructed, then its approval would be in accordance with the law.
The chief justice said that if the leases were checked, then 'all the fraud would come out as the documents are fake. It is all a matter of China cutting'.
"If the land is government-owned, how can relief be given to the affectees?" Justice Gulzar inquired. "Don't know how these leases were given. This land is not the land of the affectees."
Counsel Siddiqui, in his reply, said that the leases of houses belonging to the rich should also be checked.
Justice Ahsan added that the counsel should take the leases to the concerned department and prove it.
Earlier it was reported that scores of children affected by the anti-encroachment drives along with Gujjar and Orangi Nullahs staged a protest outside the Karachi Press Club appealing to the court to uphold the stay order issued by the Sindh High Court against demolitions.
Holding placards and shouting slogans, the children decried the humanitarian crisis upholding in Karachi's Central district with several families displaced because of the demolitions.
Civil society groups claim that the anti-encroachment drives, along the stormwater drains, which the SC ordered in connection with cleaning of the nullahs, have already rendered a large number of children homeless. They argue that roughly 21,000 children will be displaced if all the marked houses along Gujjar and Orangi nullahs are demolished.