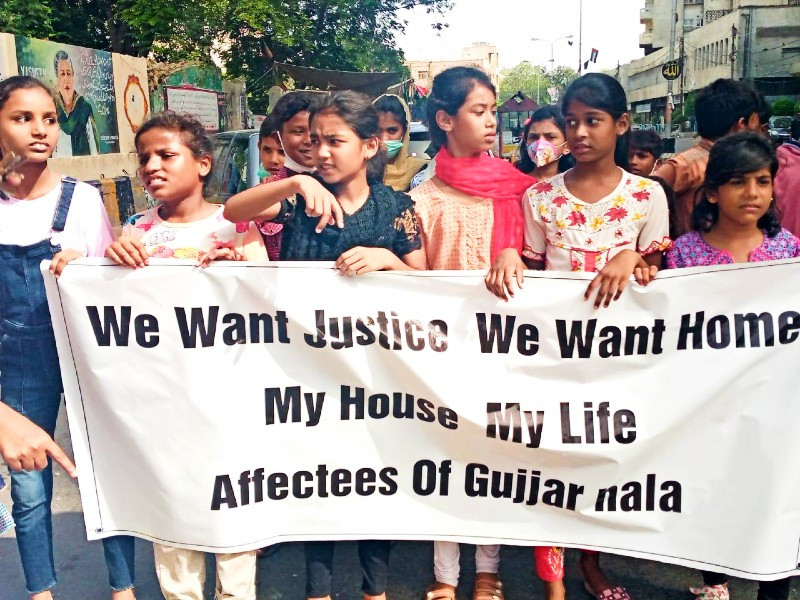 ---
KARACHI:
Scores of children affected by the anti-encroachment drives along Gujjar and Orangi Nullahs staged a protest outside the Karachi Press Club on Sunday, appealing to the Supreme Court to uphold the stay order issued by the Sindh High Court against demolitions.
The apex court is scheduled to hear the residents' plea against the anti-encroachment drive today (Monday).
Holding placards and shouting slogans, the children decried the humanitarian crisis upholding in Karachi's Central district with several families displaced because of the demolitions.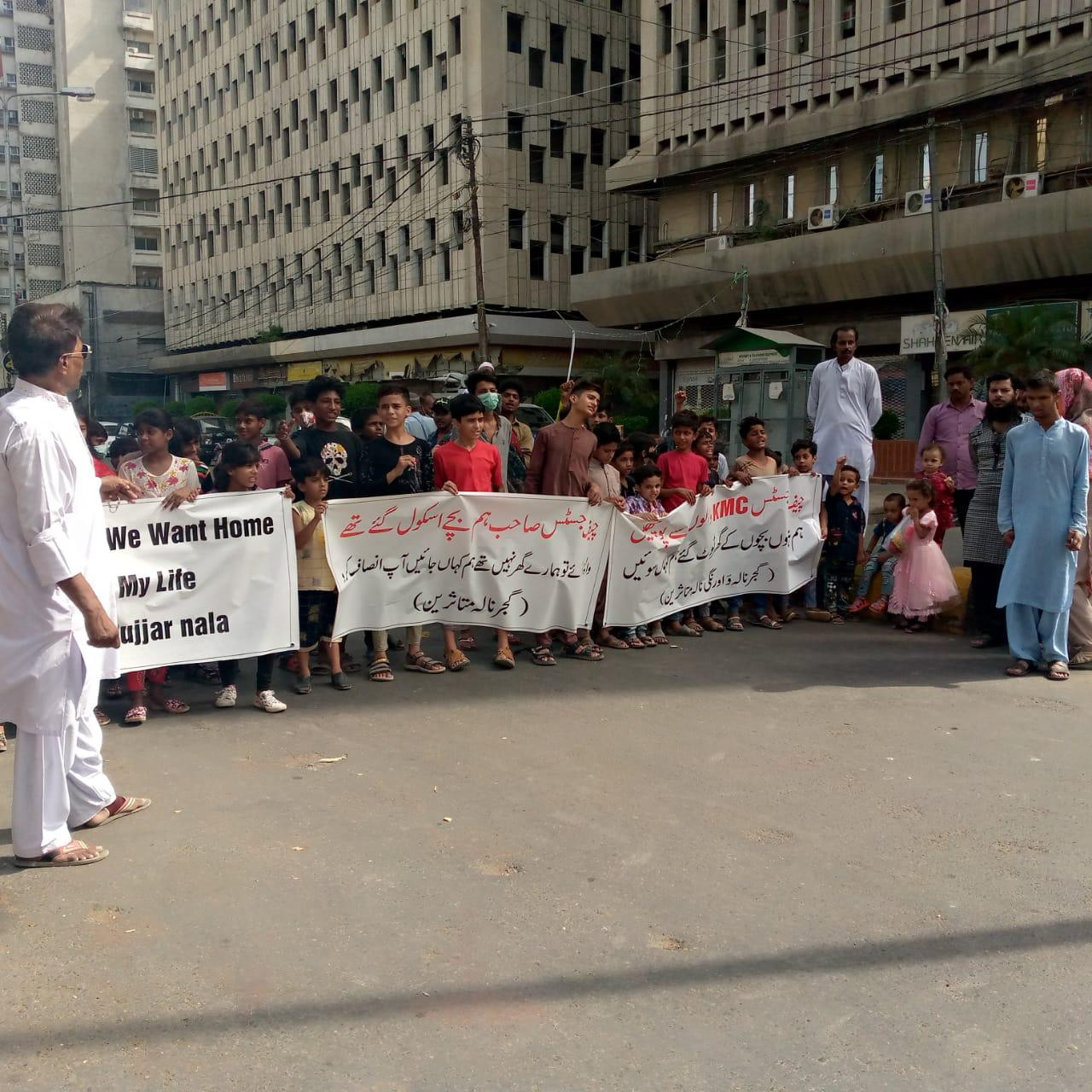 Ali, 13, a resident of Tayyababad told the media, "It is not just about having a roof over our heads, I can't study or do anything else as there is no electricity or even gas to cook food. We are living like cats and dogs and Abbu [father] is doing nothing about it!"
Read more: SHC restricts demolitions along Gujjar, Orangi nullahs
Civil society groups claim that the anti-encroachment drives, along the stormwater drains, which the SC ordered in connection with cleaning of the nullahs, have already rendered a large number of children homeless. They argue that roughly 21,000 children will be displaced if all the marked houses along Gujjar and Orangi nullahs are demolished.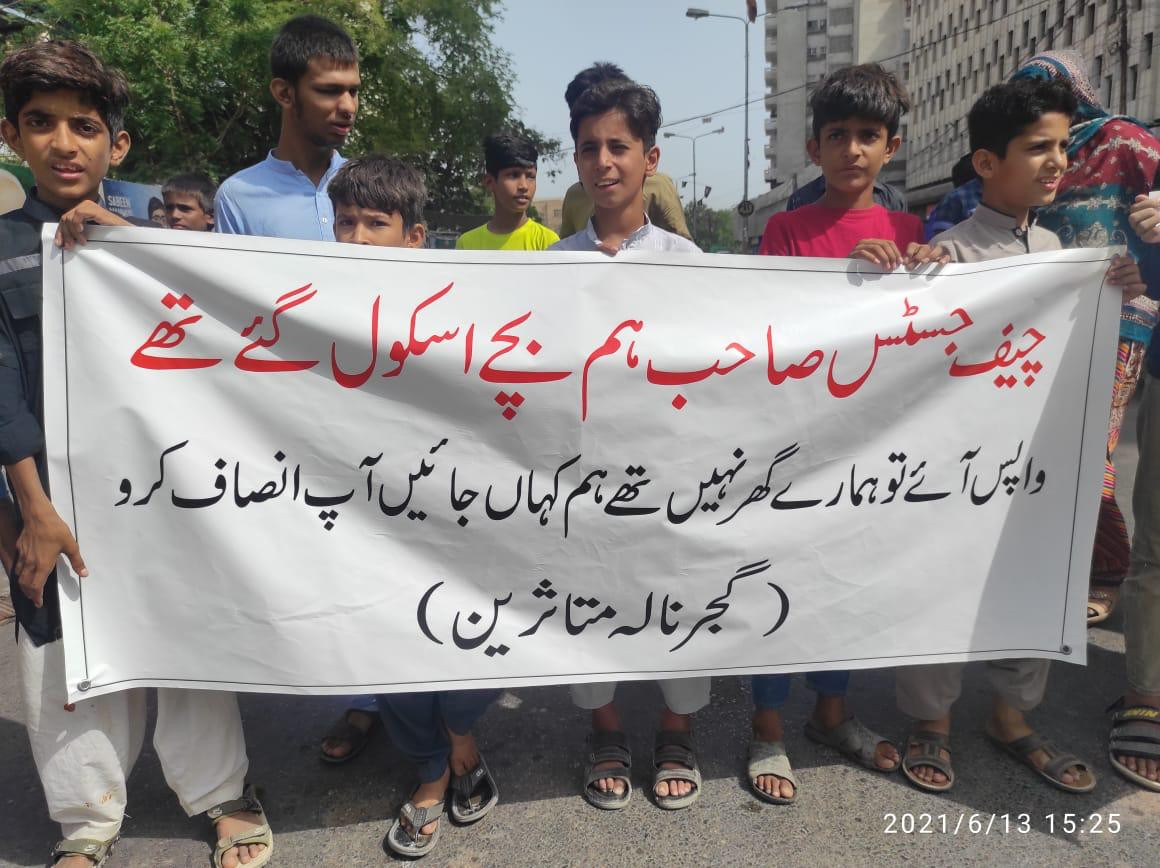 "While children residing in elite housing societies, many of which are developed on encroached land, continue to live comfortably in air-conditioned rooms and attend school, the children of working class neighbourhoods near Orangi and Gujjar nullahs are being forced to spend the summer without any shelter," said Erum Yasmeen.
Yasmeen, who was the midwife for many of the protesting children, said that the number of affected children was much higher than those who had gathered outside KPC on Sunday. Many of these children dropped out of school after their homes were demolished, she added.
Also read: Demolition affectees leader ambushed, beaten up
Narrating his account, Arbaz, 11, said he was shocked to find his mother sitting on the debri of his demolished house when he returned home from school one day. "I don't know what happened. I left for school after having breakfast in my home. But there was no home when I returned."
Arbaz said he had to drop out of school after his house was razed.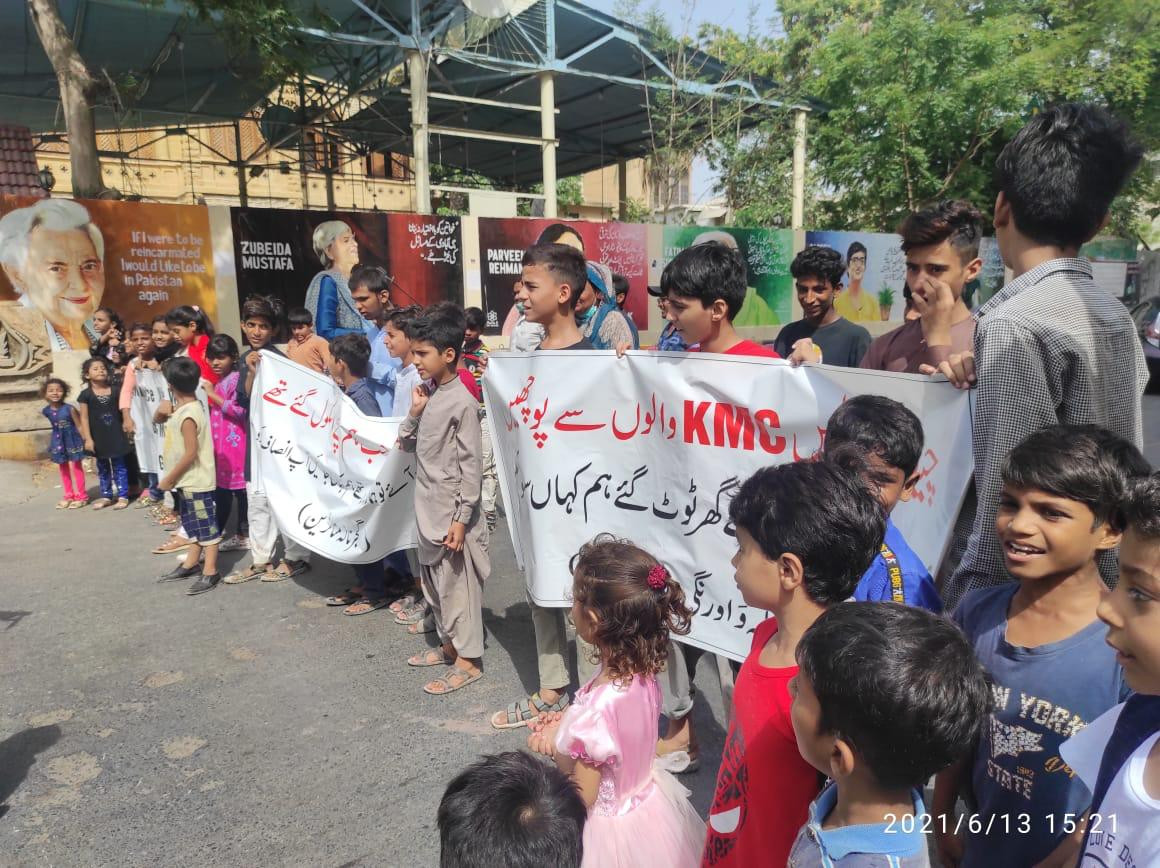 Robin, a resident of Kausar Niazi Colony who had accompanied his child to the protest, told the media that he had invested all of his savings into building his house. He asked why he - a daily wage earner - was being made to suffer along with his family for the government's decision to regularise an area for which they now say leases should not have been issued.
Speaking at the protest, Abid Asghar, the head of the Gujjar Nullah Affectees' Committee, said that all the marked properties were located at a distance from the drain.
Many of these settlements are as old as this country, he claimed, adding that the few houses actually located near the Gujjar Nullah had already been demolished in 2016. "Those displaced during those demolition drives have yet to be compensated and rehabilitated," he added.
According to Asghar, the current demolition drives have little to do with the dispensation of rainwater as the authorities claim but are instead being done so that 30-feet-wide roads can be constructed on either side of Gujjar Nullah. These roads are not part of Karachi's master plan, he said, adding that SHC Justice Hasan Azhar Rizvi had also raised this question when the high court heard the residents' pleas.
Meanwhile the head of the Orangi Nullah Affectees Committee, Arsalan Ghani, bemoaned that 90 per cent of construction in Karachi was on encroached land. No action is taken against elite housing societies established after cutting down mangrove forests, he said.
By demolishing working class neighbourhoods the state is creating a humanitarian crisis that will displace around a 100,000 people, including 21,000 children, he claimed.
The protesting children and their families appealed to the apex court to restrict the authorities from demolishing their houses on the basis of a "flawed" survey conducted by the students of NED University of Engineering and Technology.
COMMENTS
Comments are moderated and generally will be posted if they are on-topic and not abusive.
For more information, please see our Comments FAQ