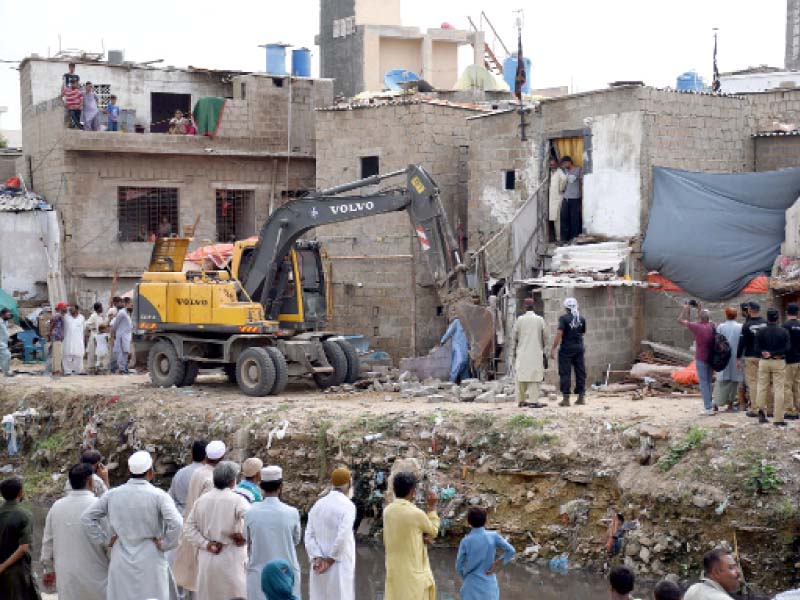 ---
KARACHI:
The Sindh High Court has restricted the relevant authorities on Friday from razing leased properties built along with the Gujjar and Orangi nullahs till the Supreme Court hears the case.
A two-member bench, comprising Justice Hasan Azhar Rizvi and Justice Rashida Asad, was hearing a set of pleas against the demolitions of leased properties in the area. The petitioners' counsel contended that while the apex court had directed the removal of encroachments, it had ordered nothing regarding the removal of people residing in properties leased out for 99 years by the former city district government.
The counsel informed the bench that the Sindh government, the Karachi Metropolitan Corporation and the National Disaster Management Authority planned to carry out further construction than they had listed in the plan submitted before the Supreme Court.
He argued that the relevant authorities plan to construct a 30-foot-wide road on either side of the two stormwater drains' banks and the apex court had not been informed about this. On the other hand, the KMC's counsel argued that the leased houses were falling in the limits defined for the anti-encroachment operation.
The counsels of both sides confirmed during the hearing that there is a petition pending seeking clarification on the SC's orders regarding leased houses is scheduled for hearing by the top court on May 17.
The bench remarked that the case should be taken before the apex court and guidance should be sought on whether leased houses can be considered encroachments.
Besides, it should be assessed whether Rs15,000 each month for housing rent for a limited time period could be considered compensation for losing shelter, the court directed. The bench forwarded the matter of 30-feet-wide roads being built on either side of the nullahs to the apex court and inquired whether this construction was being done based on an approved plan.
The bench directed the relevant authorities to suspend the anti-encroachment operations along Gujjar and Orangi nullahs till further orders are given by the SC.
Keenjhar Lake
Meanwhile, another two-member bench, comprising Justice Muhammad Ali Mazhar and Justice Amjad Ali Sahito, sought a progress report from the relevant authorities over a plea seeking safety arrangements at Keenjhar Lake.
The petitioner has argued that lives are lost due to insufficient and inefficient safety mechanisms in place at Keenjhar Lake. The petition cites the example of a boat capsizing in the lake last year.
Ten people had died in the accident, according to the petition. During the hearing, the Sindh assistant advocate-general stated that the work to build sufficient safety mechanisms was almost complete.
At this, the bench directed the petitioner to visit the last and assess the progress of work.
The court also sought a progress report and summoned the lake in charge at the next hearing slated for May 25.