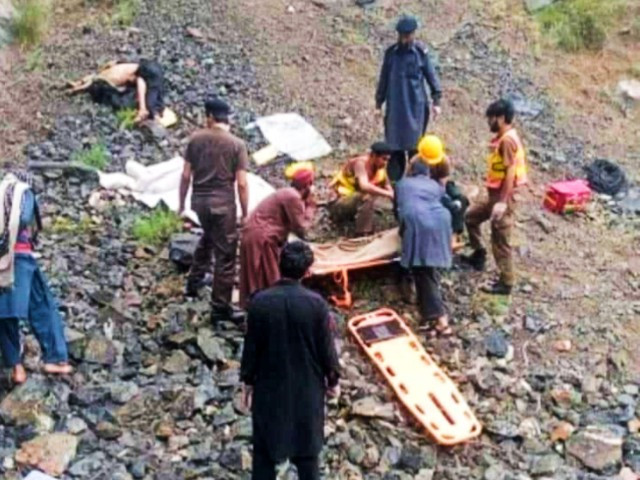 ---
KHUZDAR:
At least 20 people were killed after a speeding passenger coach fell into a deep gorge while on the way from Wadh to Shehzad Kot in Khuzdar district of Balochistan on Friday.
Around 50 people including women and children were also injured as the bus fell into a ditch near the Baduk hill picnic point. Majority of the deaths were reported of passengers sitting on the roof.
According to sources, the caravan was on the way to Johi Dadu after attending the Kakahi Heer Jalsa.
The deputy commissioner Khuzdar, assistant commissioners along with the Balochistan Levies reached the spot and rescued the victims. Frontier Corps also participated in the rescue operation.
Anjuman-e-Tajiran Khuzdar president also provided relief, medicine and necessary supplies to the injured.
Read Ghotki train tragedy toll climbs to 65
The injured along with the bodies of the victims were shifted to the Khuzdar District Hospital.
Eight people, including an infant, lost their lives when a passenger bus plunged into Siran River near Gojra Bridge.
According to police, the driver, identified as Wazir Muhammad, died on the spot. They added that the brakes of the bus failed near Katehra, after which a passenger, identified as Sarfaraz, asked the driver to let them off the vehicle. But the driver did not pay heed to the request and kept driving. Thus, near Gojra bridge, the bus swerved and fell into the river.
Residents reached the site and shifted the deceased and injured to a nearby hospital. After completion of all legal formalities, Phalra police sent the bodies to their respective hometowns. Rescue officials said that the deceased hailed from Nara Doga, Lassan Thakral and Battangi areas.