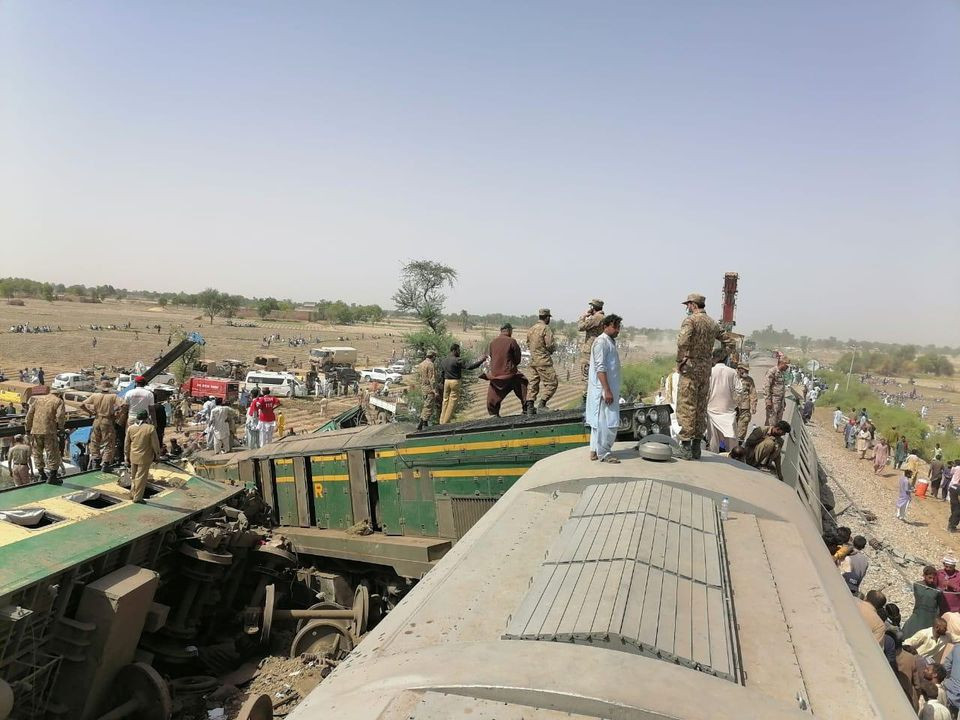 ---
The death toll in the terrible Ghotki train tragedy climbed to 65 on Tuesday with more than 100 people injured, confirmed an official of the Pakistan Railways.
Rescuers managed to pull more bodies from the mangled wreck of the coaches earlier today. Railway officials added that the track has also been cleared and restored, with train services resuming.
The Pakistan Army had earlier today said that the relief and rescue operation in the Ghotki passenger train accident had been completed.
"Train engine bogies removed from track," the Inter-Services Public Relations (ISPR) said in a press release.
"Efforts are underway to open railway track after necessary repair and maintenance."
The incident occurred when a Karachi-bound train ploughed into the derailed bogies of a Sargodha-bound express near the border between Sindh and Punjab provinces in the wee hours of June 7.
The military's media wing further added that 98 of the injured were evacuated to various hospitals including Sheikh Zaid Hospital Rahim Yar Khan and CMH Panu Aqil.
The Millat Express was heading from Karachi to Sargodha when it derailed, spilling carriages onto the track carrying Sir Syed Express from Rawalpindi in the opposite direction.
The double accident happened near Daharki in Sindh's remote Ghotki district at around 3.30 am when most of the 1,200 passengers aboard the two trains were dozing.
The Pakistan Railways spokesperson said the accident took place near the Raiti Railway Station.
Read more: Deadly smashup on tracks
"Several carriages of the first train had fallen across the adjacent track after the derailment in the Ghotki district. The second train, coming from the other direction, then smashed into them. The driver tried to apply emergency brakes but the locomotive hit the infringing coaches," he said in an initial report.
Minister for Information Fawad Chaudhry said the incidents were just minutes apart.
Local farmers and villagers were the first at the site, with huge crowds gathering around the carnage of several overturned Pakistan Railways carriages – some clambering on top in an attempt to reach survivors. The dead were laid out in rows on train seat benches and covered in traditional scarves.
The accident happened on a raised section of track surrounded by lush farmlands.