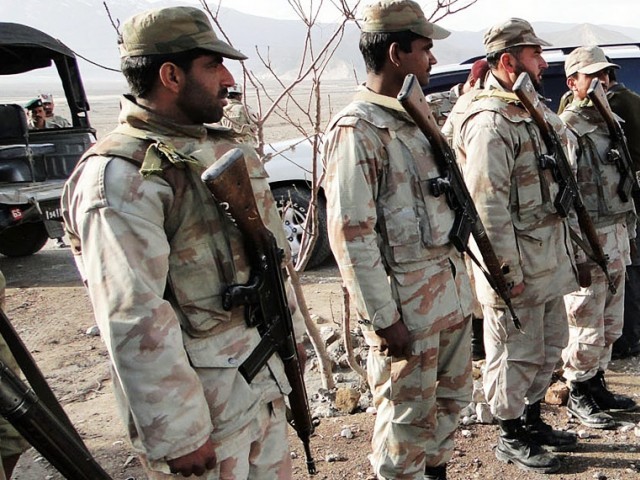 ---
A trooper of the Frontier Corps was martyred in an intelligence-based operation (IBO) in the Kharan district of Balochistan, the Inter-Services Public Relations (ISPR) said on Friday.
The martyred trooper was identified as Sepoy Fida ur Rehman, a resident of Mastuj Tehsil of District Chitral in Khyber Pakhtunkhwa (K-P).
During the IBO, the military's media wing said at least two terrorists were also killed and a large cache of arms and ammunition were recovered from them.
"Security forces are determined to neutralise their nefarious designs even at the cost of blood and lives," the ISPR added.
Read: Solider martyred in South Waziristan IED blast
Earlier on June 1, it was reported that at least four FC soldiers were martyred and eight others sustained injuries in two separate terrorist attacks in Quetta and Turbat, districts of Balochistan.
According to a statement issued by the ISPR, an FC post near Pir Ismalil Ziarat in Quetta was targeted by terrorists.
"Exchange of fire continues. 4-5 terrorists killed while 7/8 are injured. During an exchange of fire 4 brave FC soldiers embraced shahadat [martyrdom] while 6 soldiers got injured," the military's media had wing said.
In another incident, the ISPR said terrorists targeted an FC vehicle with an improvised explosive device (IED) in Turbat. Resultantly, two soldiers of the paramilitary force got injured.
"Such coward acts by inimical elements backed by anti-state forces and HIAs [hostile international agencies] cannot sabotage the hard-earned peace and prosperity in Balochistan," it said in the official communique.