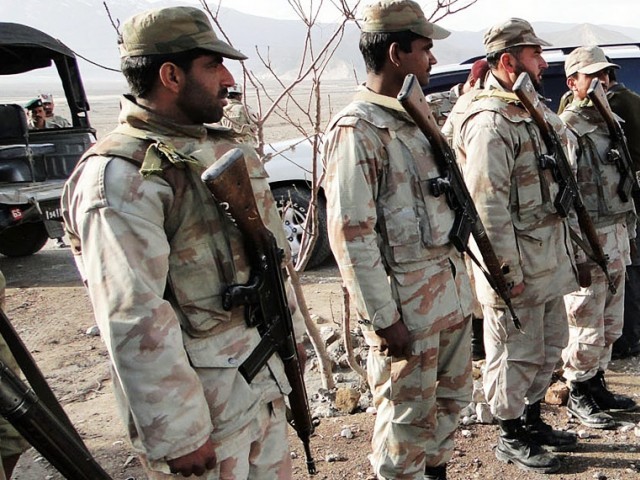 ---
At least four soldiers of Frontier Corps (FC) were martyred and eight others sustained injuries in two separate terrorist attacks in Quetta and Turbat, districts of Balochistan.
According to a statement issued by the Inter-Services Public Relations (ISPR) late Monday, an FC post near Pir Ismalil Ziarat in Quetta was targeted by terrorists.
"Exchange of fire continues. 4-5 terrorists killed while 7/8 are injured. During an exchange of fire 4 brave FC soldiers embraced shahadat [martyrdom] while 6 soldiers got injured," the military's media wing said.
In another incident, the ISPR said terrorists targeted an FC vehicle with an improvised explosive device (IED) in Turbat. Resultantly, two soldiers of the paramilitary force got injured.
"Such coward acts by inimical elements backed by anti-state forces and HIAs [hostile international agencies] cannot sabotage the hard-earned peace and prosperity in Balochistan," it said in the official communique.
Also read: South Asia's stability hinges on resolution of long-standing issues: Gen Qamar
Security forces are determined to neutralise their nefarious designs even at the cost of blood and lives, the ISPR added.
Earlier in May, at least four personnel of the FC were martyred while six others injured in a terrorist attack in Zhob district,
The FC troops were part of a fencing party working on the Pak-Afghan border when they came under attack from Afghanistan.
The army leadership last week had expressed hope that Afghan soil would not be used against Pakistan as the top brass noted the increase in cross-border attacks against Pakistani forces and the regrouping of terrorist outfits across the Pak-Afghan border.
Reaffirming Pakistan's support for regional peace and stability, the attendees of the 241st Corps Commanders Conference reiterated that the country had taken effective border control and management measures and the same was expected from Afghanistan to "deny any space to spoilers of peace".