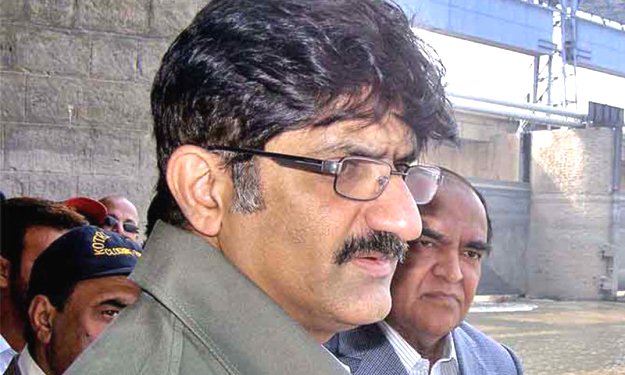 ---
KARACHI:
Strict action will be taken against elements involved in the Bahria Town Karachi (BTK) incident, said Sindh Chief Minister Murad Ali Shah on Tuesday.
Speaking at a press conference in Sindh Assembly he said that peaceful protest is right of every citizen but no one is allowed to damage public and private property and raise anti-state slogans.
Regarding the BTK incident, he said that the Sindh government had talked with the protesters and their leaders had assured of holding a peaceful protest and not saying anything against the state of Pakistan on which the provincial authorities provided them tents and drinking water too.
However, some people vandalised private property and raised anti-Pakistan slogans which will not be tolerated, the CM said.
He said that video evidence of the arson attack was available and through it, miscreants are being identified and arrested. The footage of where these people came from and what they did was clear, they will be tracked, arrested, and brought to justice, the CM said,
Meanwhile, Sindh Information Minister Sindh Information Minister Nasir Hussain Shah said that he was saddened by the tragic incident that took place in BTK "The Sindh government apologises to the people affected by the attack of the miscreants. It was our responsibility to provide security to the citizens," he said talking to media during his visit to BTK.
Education Minister Saeed Ghani, MPA Sajid Jokhio, and others were also present with him. He said that PPP being a democratic party acknowledges people's right to protest, but it would not allow violence.
Separately, Sindh Governor Imran Ismail said that it was due to the timely action by Pakistan Rangers, Sindh, that prevented a major catastrophe in BTK on Sunday.
Talking to the media at the Governor House he said that the police remained a silent spectator. In the meantime, Sindh Assembly in its session on Tuesday denounced the attack by miscreants at BTK. The lawmakers expressed hope for the early recovery of the injured people and suggested compensation for the people who had suffered losses in the vandalism.
PTI MPA Khurram Sher Zaman said it is hoped that Sindh CM will give a policy statement on the issue.
COMMENTS
Comments are moderated and generally will be posted if they are on-topic and not abusive.
For more information, please see our Comments FAQ