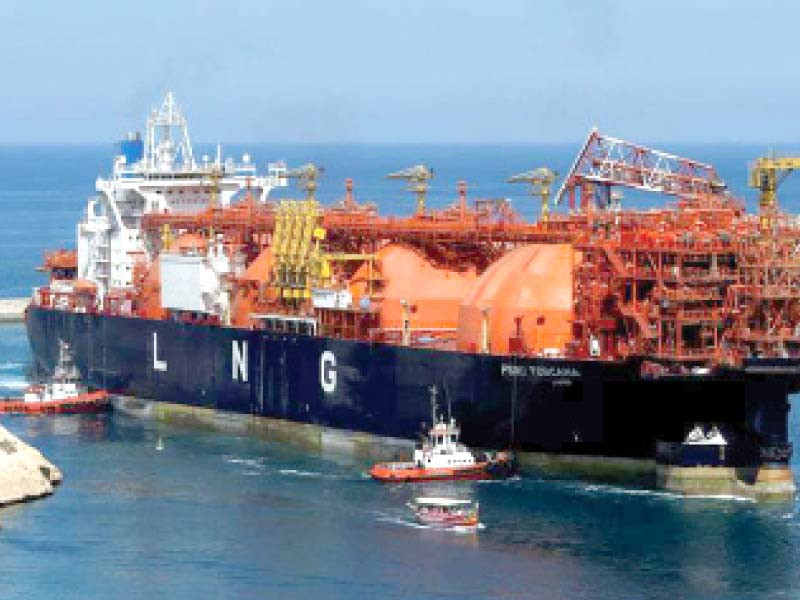 ---
ISLAMABAD:
The efforts made by state-run gas companies to maintain their monopoly over the liquefied natural gas (LNG) market have put an additional burden of $99 million on gas consumers for the idle terminal capacity.
The issue seems to be more serious compared to the capacity payments made to independent power producers (IPPs).
Though the private sector has been ready to utilise the idle terminal capacity for the past five years, the state-owned gas companies want to keep control of the LNG market.
State companies have been allocated a capacity of 600 million cubic feet per day (mmcfd) of LNG at the second LNG terminal. However, they have not been able to fully utilise it and the private sector has also not been permitted to import LNG at its own risk.
The Auditor General of Pakistan has already termed it a scam in its report submitted to the federal cabinet.
Owing to the unsanctioned terminal capacity, according to officials, a cumulative burden of $99 million had been passed on to gas consumers over the past three years.
Consumers paid $20 million in financial year 2017-18, $34 million in 2018-19 and $44.3 million in 2019-20.
The second LNG terminal has surplus handling capacity which can be auctioned to the private sector.
According to officials, Pakistan can save and earn around Rs78 billion a year if the government allocated 200 mmcfd of terminal and pipeline capacity to private sector companies on account of low terminal tariff, transportation tariff for Sui gas companies, tax payments to the government and savings in the import bill.
Pakistan LNG Limited (PLL) had floated a tender for allocating the idle terminal capacity to the private sector last year. The private sector was supposed to bring first LNG ship in October that year.
The federal cabinet allowed the private sector in July 2020 to import LNG. However, the decision could not be implemented.
The involvement of state-owned gas companies has not only created circular debt of billions of rupees in the LNG sector, but it has also posed a threat to the financial health of gas firms.
The power sector is reluctant to take LNG supplies and the Cabinet Committee on Energy has also exempted LNG-based power plants from guaranteed offtake.
In addition, Sui Northern Gas Pipelines Limited (SNGPL) and PLL have not signed a gas supply agreement. Therefore, sometimes LNG supply puts the pipeline network at risk due to reluctance of consumers to receive expensive gas supplies.
Pakistan has long-term LNG contracts with Qatar, Eni and Gunvor for supply of 700 mmcfd.
PLL, which also supplies LNG to SNGPL, imports 200 mmcfd on a term basis, under which it arranges cargoes in line with SNGPL demand.
Private sector involvement will reduce the risk of "take or pay" for state-run oil and gas companies and make gas available at competitive rates.
Officials say the Petroleum Division is also upset over the behaviour of gas companies, which are reluctant to implement the cabinet's decision to open up the LNG market for the private sector.
First LNG terminal is running at full capacity because of long and short-term contracts with Qatar and commodity trader Gunvor.
However, the second LNG terminal has been operating at low capacity since commencing operations as PLL has a term contract for 200 mmcfd. A total of 600 mmcfd has been allocated to the government at the terminal.
At present, the terminal is operating at half the handling capacity of 700 mmcfd.
In 2018, the first operating year for the second LNG terminal, the average tariff was worked out at $0.7841 ($0.4177 at full capacity) per million British thermal units (mmbtu) due to 47% idle capacity, which forced consumers to pay an extra millions of dollars.
Private sector involvement will bring down the capacity charges for one cargo by $1.14 million, for five cargoes by $5.7 million and for 10 cargoes by $11.4 million, say market players.
Savings will come because a substantial part of government's LNG import bill and letter of credit (LC) guarantees will shift to the private sector.
Multilateral donors like the Asian Development Bank (ADB) and the World Bank have also pressed Pakistan to deregulate the gas market. They have called for splitting the state-run gas companies to reduce losses and inefficiency.
Since 2016, the World Bank has been pushing Pakistan to open the LNG market for the private sector. It has suggested the deregulation of gas prices as well, which will allow market forces to determine the cost.
COMMENTS
Comments are moderated and generally will be posted if they are on-topic and not abusive.
For more information, please see our Comments FAQ