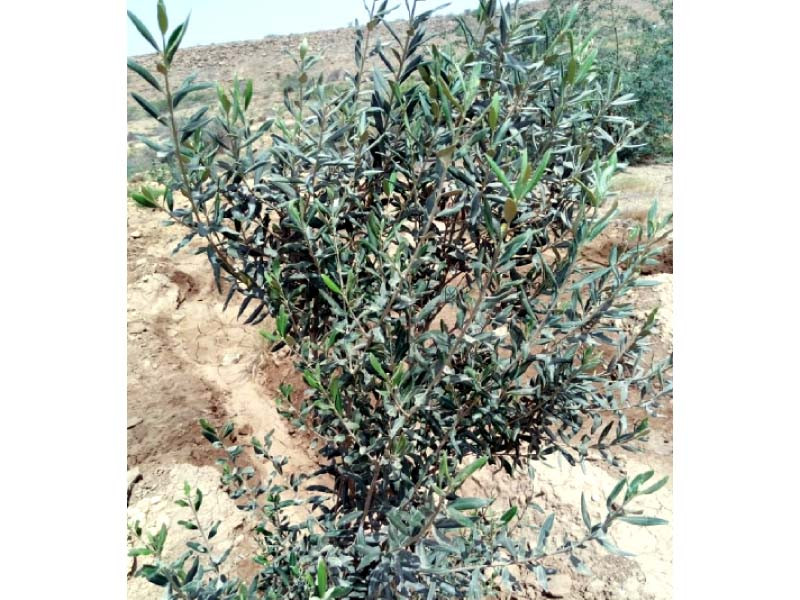 ---
KARACHI:
After a successful trial with over 100 olive trees planted near Karachi city, the Sindh government has decided to launch a mass olive plantation drive in different parts of the province.
The first 100 saplings were planted near Thado Dam, Gadap area. In the span of a few months, the saplings have grown up to five feet high, encouraging foresters to launch a massive drive.
Another 100 olive trees are to be planted in the Super Highway area on June 5 - World Environment Day.
Officials of the Sindh wildlife and forest departments believe that the tree is both native to the region and economically viable.
"It does not cost too much. And the growth is amazing," said Social Forestry Divisional Forest Officer Maqsood Memon, speaking to The Express Tribune.
The olive tree already exists in different parts of the province, including Karachi, Thatta and Jamshoro.
Forest officials believe that there is a visible presence of the tree in the wild but it has not been noticed.
The officials who spoke to The Express Tribune maintained that the tree is indigenous to Sindh's climate and will add to the province's beauty. A massive plantation drive for olives has been launched in Karachi in a bid to promote native trees, they added.
"We can plant this tree anywhere in the city and its adjoining areas," said Memon.
Seconding Memon, Javed Ahmed Mahar, who is another social forestry officer for Karachi division, said he could see these trees blooming with fruit next year.
Mahar, who has olive trees in his home town in Sukkur, agreed that the tree is a native one and can be spotted easily on the outskirts of the metropolis.
Forest officials dismissed skepticism around the olive tree and its adaptability to Karachi's climate. They reminded that some people had cast doubts on the growth of coconut trees in the coastal areas of Sindh when they were planted in Thatta in the 1980s.
But, one can see now how fruitful coconut trees have been, said one senior official.
Lauding the Sindh forest department's efforts, Sindh Information Minister Nasir Hussain Shah said that wild olives are indigenous to the region and common in Jamshoro, Thatta, Dadu and Karachi. The results of the forest department's trial plantation near Thado Dam have been encouraging and further trials on government and community lands are being considered, he wrote recently on Twitter.
Published in The Express Tribune, June 2nd, 2021.