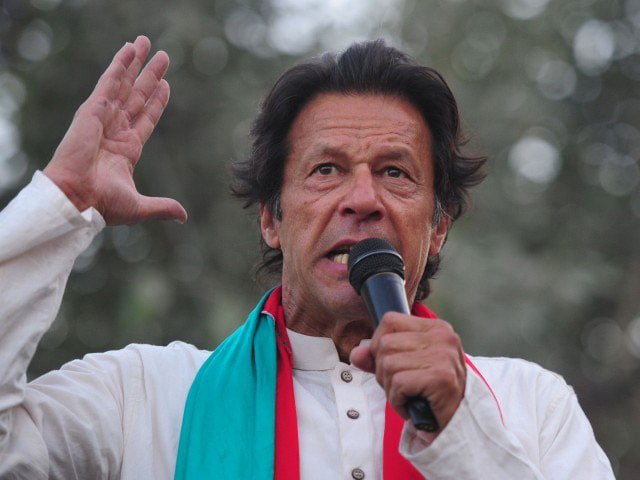 ---
The ruling PTI workers on Tuesday staged a protest demonstration outside the Bani Gala residence of Prime Minister Imran Khan against ticket allotment for upcoming general elections of Azad Jammu and Kashmir (AJK) legislative assembly.
According to Express News, the disgruntled party workers blocked the road leading to the PM Imran's residence.
The workers chanted slogans against the party leadership, saying "parachuters and wealthy individuals" were awarded tickets instead of ideological party members.
The protesting workers termed the PTI parliamentary board's decision unjust and added that they would not let the electables contest the AJK polls.
PTI chief PM Imran last week finalised the party candidates for the upcoming AJK elections.
In a tweet, Minister of Information and Broadcasting Fawad Chaudhary had said that candidates for some seats would be announced later.
He added that 300 applications were received for tickets of 45 seats.
وزیر اعظم و چئرمین تحریک انصاف عمران خان نے آزاد کشمیر اسمبلی کے آئندہ انتخابات کیلئے امیدواروں کے ناموں کی منظوری دی ہے، کچھ نشستوں پر امیدواروں کا اعلان بعد میں کیا جائیگا، آزاد کشمیر کی 45 نشستوں کیلئے 300 امیدواروں نے ٹکٹ کے حصول کیلئے درخواست دی تھی۔ pic.twitter.com/uCrZ8Eh6F5

— Ch Fawad Hussain (@fawadchaudhry) May 29, 2021
The same day five members of AJK assembly met PM Imran and announced joining the ruling PTI, "showing full confidence in his prudent policies and leadership".
The lawmakers included Ali Shan Soni, Ali Raza Bukhari, Sagheer Chughtai, former speaker Anwarul Haq, and former minister Shahzad Chaudhry.
They expressed full trust in the prime minister's leadership, vision and the PTI's policies.