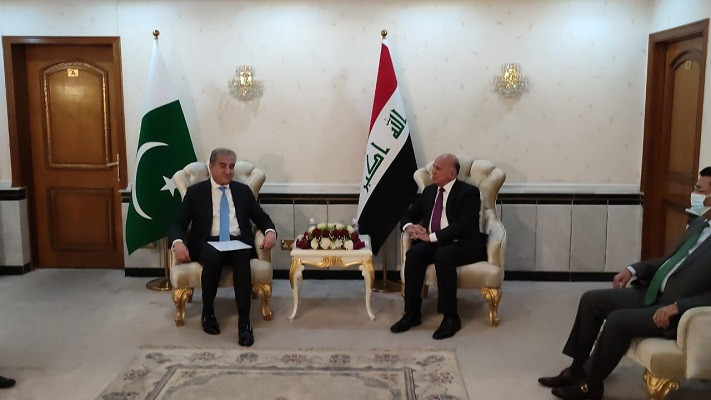 ---
BAGHDAD:
Foreign Minister Shah Mahmood Qureshi on Saturday said that Pakistan greatly values its relations with Iraq.
Speaking to his Iraqi counterpart Fuad Hussein in Baghdad, Qureshi said the fraternal relations between the two countries are deep-rooted in common history, religion and cultural values.
He added that there are vast opportunities of cooperation between the two countries in the areas of trade, investment, education, technology, and infrastructure development.
Qureshi maintained that both Pakistan and Iraq can share their experiences in the fight against terrorism.
While talking to the Iraqi diplomat, Qureshi further stated that resolution of the Palestine issue is imperative for peace in the Middle East and Indian illegally occupied Jammu and Kashmir (IIOJK) dispute for peace in South Asia.
Read: UNSC no longer in position to dodge Palestine issue: FM Qureshi
Both foreign ministers agreed to enhance mutual cooperation at the international forums including the United Nations (UN) and the Organization of the Islamic Cooperation (OIC).
Furthermore, the two also emphasised the need for collective efforts at the international level to curb the spread of the Covid-19 pandemic.
Later addressing a joint news conference along with his Iraqi counterpart, Qureshi said Pakistan wants peace in the South Asian region because it is vital to the aim of lifting the people out of poverty.
Qureshi further added that Pakistan is taking a number of steps to facilitate pilgrims visiting Iraq.
Earlier on Friday, the foreign minister arrived in Baghad on a three-day official visit to the country.
He will also call on the Iraqi leadership and speak with the ministers there on bilateral matters regarding the areas of cooperation, specifically the management and wellbeing of thousands of Pakistani pilgrims who visit the sacred sites in the country each year.
Read more: No armed pressure group allowed to dictate govt policy, Qureshi tells EU lawmakers
On March 13, Pakistan announced to dispatch three planes full of Covid-19 relief goods to Iraq on the directives of Prime Minister Imran Khan.
Making the announcement during a press briefing, Foreign Office Spokesperson Zahid Chaudhri stated that the Covid-19 pandemic was a global challenge, which could only be contained with international solidarity and cooperation.
The government and people of Pakistan stood by their Iraqi brethren in this difficult time, he maintained.
Pakistan and Iraq enjoy long-standing fraternal relations based on shared faith, values and culture. The two nations have a shared understanding and similarity of views on several regional and global issues. They continue to collaborate closely to boost bilateral cooperation in various fields.
The two countries have a multifaceted relationship, marked by regular high-level exchanges and growing cooperation in diverse fields, the spokesperson maintained