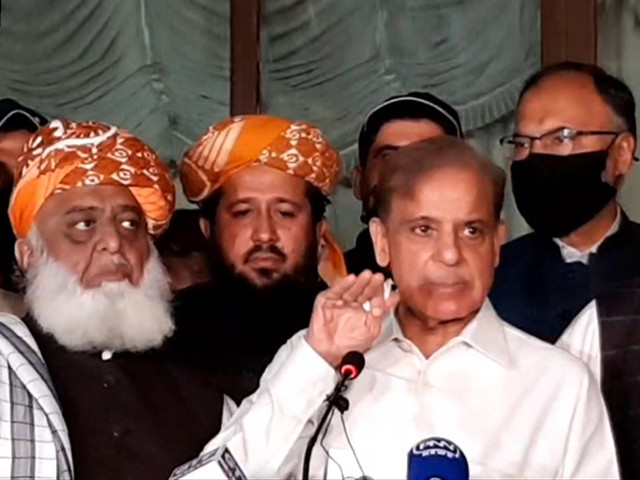 ---
PML-N President Shehbaz Sharif has said that Pakistan Democratic Movement (PDM) will discuss the matter of PPP and ANP's separation from the joint opposition alliance in its meeting scheduled for Saturday, May 29.
He made these remarks while addressing a press conference along with JUI-F chief Maulana Fazlur Rehman in Islamabad on Friday.
Responding to a question, Shehbaz said PDM with the consensus of all constituent parties will decide about the matter.
"No political party has the authority to make other party a member or expel it [from PDM]," said Shehbaz when asked if he was making efforts to bring PPP back to the alliance. All decisions will be taken with consensus, he maintained.
Sources on Wednesday told The Express Tribune that despite the ongoing attempts at reconciliation, PPP's return to the multiparty alliance has become even more difficult in the light of recent strong statements made by PML-N leaders Maryam Nawaz and Shahid Khaqan Abbasi.
The turmoil between PPP and PML-N had deepened when PDM issued an "explanation letter" to the PPP and the ANP and five opposition parties formed a separate bloc of 27 senators in the upper house.
Resultantly, the PPP and the ANP parted ways with the PDM by submitting their leaders' resignations from all posts of the 10-party anti-government alliance which was formed in September 2020 to oust the government of Prime Minister Imran Khan and curtail the role of the establishment in politics.
Also read: Gulf within PDM widens
Shehbaz at the start of his presser said the PDM meeting under the chairmanship of Fazl will also discuss other issues including upcoming budget, US forces withdrawal from Afghanistan and coronavirus pandemic.
He also lashed out at the PTI-led government, saying that that the Covid-19 vaccine roll-out in the country is very slow and even the least developed countries were inoculating their populating at a faster pace than Pakistan. "This government is only relying on donations for coronavirus vaccines," he added.
Speaking on the occasion, Fazl said PPP took unilateral decisions by violating PDM's discipline and rules.
He said PPP should have accepted the majority view of PDM constituent parties instead of "imposing" its own decision on others.
The JUI-F chief also alleged that attempts were being made to give military bases to the United States, allowing it to monitor situation in Afghanistan after completing troops' withdrawal.
COMMENTS
Comments are moderated and generally will be posted if they are on-topic and not abusive.
For more information, please see our Comments FAQ