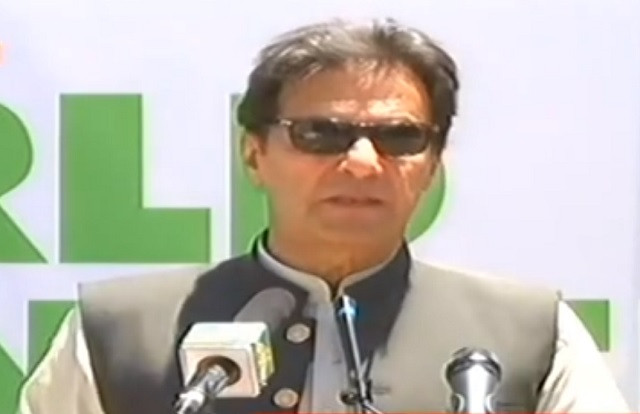 ---
HARIPUR:
Prime Minister Imran Khan said on Thursday that Pakistan will host the World Environment Day on June 5 and highlight the steps it haa taken to deal with climate change.
"The event is a recognition that Pakistan is amongst the few countries taking serious measures to cope with the challenge of global warming," the premier said while addressing a ceremony in Haripur in connection with the Ten Billion Tree Tsunami Program.
He reiterated that Pakistan is among the 10 countries most vulnerable to climate change. "The melting of glaciers at a rapid pace poses a serious challenge for the country."
"The impact of climate change can be reversed with the will to do the same," he remarked.
Our efforts, the prime minister added, are aimed at providing a better and secure future to our coming generations.
"The current and a series of other projects are part of the same effort. These include the establishment of national parks and restoration of wetlands and wildlife."
Also read PM Imran urges financial commitments to address climate change
The premier also hoped that the projects will generate job opportunities and play a role in the promotion of tourism.
Earlier, Special Assistant on Climate Change Amin Aslam apprised PM about the progress on different projects.
Last month, PM wrote a letter to Microsoft co-founder Bill Gates, inviting him to work together against the dangers of climate change.
He also informed Gates about the climate challenges being faced by Pakistan, saying the country was on the front lines of the climate challenge and was amongst the top countries "continuously impacted" by climate change over the past two decades.
The premier however pointed out that Pakistan, at the same time, was a very low contributor to the issue, adding less than one percent of the global greenhouse gas emissions.
In addition, the premier said that being a developing country, Pakistan was seeking to achieve climate-sensitive economic growth that can only be possible through international cooperation and partnership.