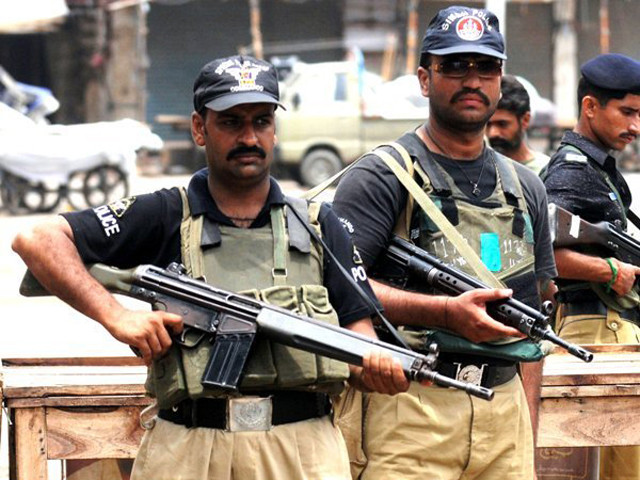 ---
Prime Minister Imran Khan has directed Interior Minister Sheikh Rashid Ahmed to visit Sindh and formulate a strategy in coordination with the law enforcement agencies to control "deteriorating law and order situation" in the province.
The development comes after Minister for Planning Asad Umar and the interior minister briefed the premier on the province's situation following the martyrdom of two policemen at the hands of bandits in Shikarpur, said Information Minister Fawad Chaudhry in a tweet on Tuesday.
PM Imran discussed in detail Sindh's situation with Governor Imran Ismail and Asad Umar, he added.
وزیر اعظم عمران خان نے گورنر سندہ عمران اسماعیل اور وزیر پلاننگ اسد عمر سے سندہ کی صورتحال پر تفصیلی گفتگو کی، دونوں اکابرین نے وزیراعظم کو سندہ کی انتظامی بدانتظامی اور خصوصاً امن و امان اور بڑھتے ہوئے جرائم پر اپنی شدید تشویش سے آگاہ کیا،

— Ch Fawad Hussain (@fawadchaudhry) May 25, 2021
"Both leaders conveyed their serious concerns over Sindh's government's mismanagement, especially prevailing law and order and rising crime [in the province] to the prime minister," Fawad wrote on his official handle.
ان معلومات پر نوٹس لیتے ہوئے وزیر اعظم نے وزیر داخلہ شیخ رشید آحمد کو ھدائیت کی ہے کہ وہ سندہ کا دورہ کریں اور قانون نافذ کرنیوالے اداروں سے مل کراس صورتحال پر حکمت عملی طے کریں، وزیر داخلہ اس دورے کے بعد اپنی رپورٹ وزیر اعظم کے سامنے رکھیں گے

— Ch Fawad Hussain (@fawadchaudhry) May 25, 2021
On Sunday, two policemen and a civil tracker were martyred in an operation against dacoits in Shikarpur district's riverbed area in Khanpur.
A day later, a notable feudal lord of the Sardar Tegho Khan Teghani tribe was arrested from Karachi along with his two sons and a nephew in connection with the incident. He is known for wielding influence on the bandits of his area.
Also read: Influential tribal chief held in Karachi for 'abetting' Shikarpur bandits
At a press conference in Shikarpur, Larkana DIG Nasir Aftab Pathan and Shikarpur SSP Ameer Saud Magsi claimed that the police have killed six bandits and arrested three of them besides injuring 12 others.
The deceased and injured suspects were taken away by the bandits.
Denying accusations of starting an ill-planned and hasty operation against the well-armed dacoits around Garhi Tegho area along the riverbed, the officers maintained that the operation made headway for two days before the killings of the policemen. "The outlaws of Teghani, Qambrani and Jaffery tribes besides other groups infest the katcha area. Conducting an operation there was difficult but the police have secured gains," they claimed.
The officers said the chain of one of their armoured personnel carriers was broken after which the dacoits launched rocket attacks on the vehicle, killing two policemen and a civilian sitting inside it. The police rescued five other policemen who were in that vehicle, they added.