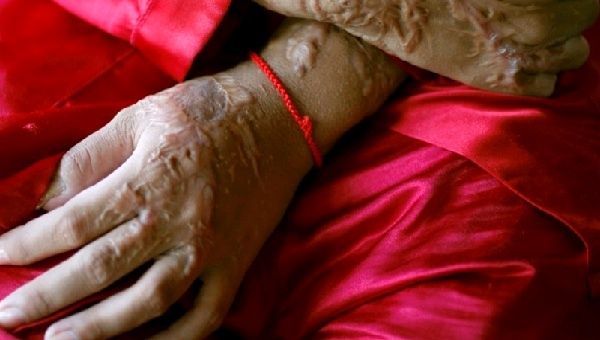 ---
THEKRI WALA:
Police booked three persons for allegedly throwing acid on a woman in the city on Monday.
Reportedly, the suspects riding a motorcycle threw acid on the woman at the behest of four persons, including the victim's ex-husband and his wife, out of resentment over divorce and filing of suit for expenses.
She was shifted to Allied Hospital Faisalabad. Taking notice of the matter, Regional Police Officer (RPO) Rifat Mukhtar Raja called for a report from the CPO Sohail Chaudhry.
Ghulam Muhammadabad police registered a case against five named suspects and three unidentified suspects including two women and started searching for them.
Ghulam Zeb, the son of Ghulam Hussain and a resident of Marzipura, Mohalla Hussain area, had taken a stand in the case that his 26-year-old was sleeping in her home at night.
Meanwhile, unknown persons knocked on the door of the house. When the victim opened the door, the unidentified suspects who were riding a motorcycle threw acid on her. As a result of the incident, the victim suffered burn injuries on her legs and other parts of her body.
A Rescue 1122 team transferred her to the burn unit of Allied Hospital Faisalabad after providing medical assistance.
Three motorcyclists allegedly threw acid on the complainant's sister on the orders of her ex-husband Shafiq, his second wife Emman, Hasan Batwa, son of Gulzar and resident of Awami Colony, Nadeem Abbas, son of Hanif, Fatima, wife of Hanif and resident of Madinabad over the victim's decision to divorce and file a suit for expenses in court.
The CPO formed teams headed by Lyallpur Town SP Arsalan Ahmed who were conducting raids to nab the suspects.
Further action will be taken after receiving the doctors' report, the SHO added. The case had been registered under the provisions of acid attack.
The victim married Shafiq around three years ago. Later, the couple got divorced due to daily quarrels after which the woman had filed a claim in the court for the expenses of the children.
Reportedly, the woman's ex-husband, his wife and other accomplices were deranged over the court matter.
(THE VICTIM'S IDENTITY HAS NOT BEEN DISCLOSED AS A MATTER OF POLICY)
Published in The Express Tribune, May 25th, 2021.