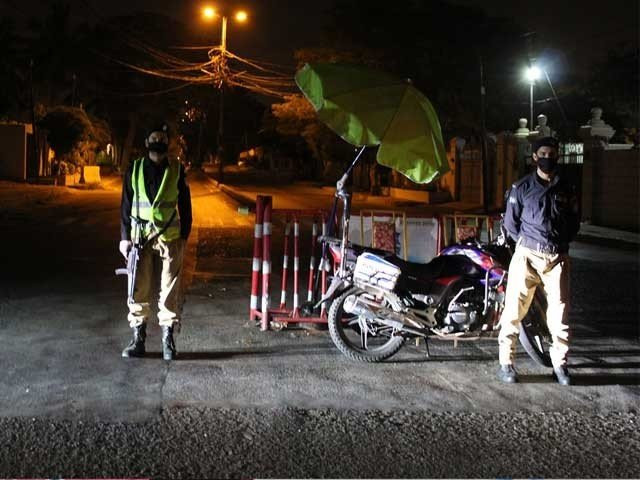 ---
KARACHI:
The Sindh government on Monday took the decision to limit the movement of citizens in the province from May 25 in order to mitigate the recent uptick in Covid-19 cases in the province.
The new restrictions decided during a meeting of the coronavirus provincial task force chaired by CM Murad, will now limit unnecessary movement after 8pm. Only those individuals who have a valid reason to be out after 8pm will be allowed to do so.
The restrictions apply across the province, but have a focus on Karachi and Hyderabad, as the two cities have reported a higher number of cases when compared to the rest of the province.
Sindh Chief Minister Murad also directed the provincial inspector-general of the police to restrict unnecessary movement of vehicles, CM's spokesperson Abdul Rashid Chana said.
However, if an individual has to go to a hospital or for other necessary work then they would be allowed to do so. Authorities have also decided to turn off lights in the parks of the city after sunset.
"If people cooperate, Covid-19 cases would reduce after two weeks and we can move towards lesser restrictions," the spokesperson said quoting CM Murad.
Read more: Over 1,500 Covid cases detected
Business hours in the province will be from 5am to 6pm whereas bakeries and milk shops will be allowed to open till 12 midnight.
Departmental and superstores would be allowed to remain open till 6pm whereas businesses would remain closed on Fridays and Sundays. The chief minister further said that he would pay surprise visits to different areas and would take action if the SOPs were violated.
"If we fully comply with the two-week ban, it will be easier," he reiterated.
Murad also directed the commissioner and deputy commissioners of Karachi to ensure full implementation of SOPs in the port city at all costs. Murad also said that of the total cases reported in the country, almost 50pc were from Sindh.
"I am getting complaints of SOP violations from district east and district central," he added.
The forum was further informed that about 21pc of the cases tested in Karachi's district east were Covid-19 positive. District south had 16pc positive cases, central had 10pc while Hyderabad had 11pc, Dadu had 10pc, Sukkur 8pc positive cases.
The number of patients on ventilators in the city had increased to 71 during the last 24 hours and 90 patients were admitted to hospitals in Karachi
The chief minister also directed the provincial minister of industries to conduct mass vaccination in industrial areas.
"We have to save our people by vaccinating them," CM Murad said.
The meeting was attended by Provincial Ministers, Dr Azra Fazal Pechoho, Saeed Ghani, Jam Ikramullah Dharijo, Chief Secretary, IG Police, Additional Chief Secretary Home, Commissioner Karachi, Additional IG Karachi, Principal Secretary, Provincial Secretaries, Finance, School Education and others.
COMMENTS
Comments are moderated and generally will be posted if they are on-topic and not abusive.
For more information, please see our Comments FAQ