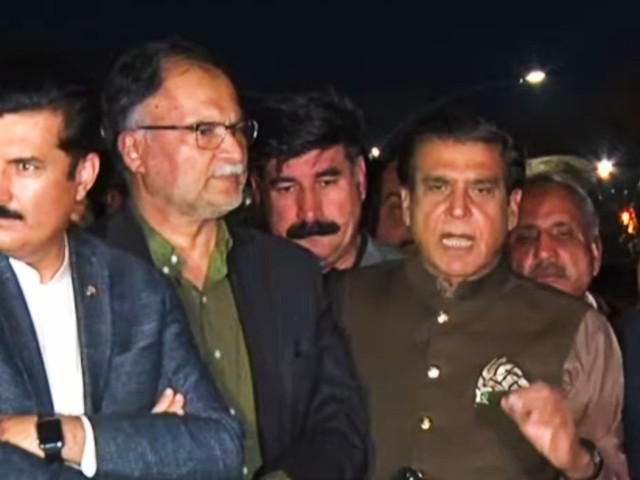 ---
LAHORE:
With seeming signs of thaw in relations, the PPP has finally accepted the dinner invitation by Opposition Leader in the National Assembly and PML-N President Shehbaz Sharif scheduled to be held on Monday in Lahore.
Confirming the invitation, PPP Information Secretary Faisal Karim Kundi said that his party had formed a three-member delegation comprising Yusuf Raza Gilani, Raja Pervez Ashraf and Sherry Rehman for the purpose.
Kundi said that PPP Chairperson Bilawal Bhutto Zardari was not in the country and would not attend the dinner.
He dispelled rumours that the invitation was meant for forming a political alliance but simultaneously added that the PPP would have no problem working with opposition parties, even if it be the PML-N.
He said all the opposition parties were working in unison even in the Senate where the PML-N had expressed its strongest reservations against the nomination of Gilani as the opposition leader.
Read more: Fazl urges PPP, ANP to rejoin PDM
When asked about the PML-N plans of chalking out a joint strategy for the upcoming budget session, Kundi said that no such agenda had been shared with them.
He further clarified that PPP had not been approached by the PDM for the opposition's next meeting.
He said the PDM will have to tender an apology for leveling baseless allegations against the PPP.
Responding to a question why the PPP accepted the invitation when it had strong reservations against the PML-N, Kundi said his party was only reciprocating to a goodwill gesture since there was agenda item of forming an alliance on the table. He further said that doors were never closed in politics.
A source within PPP said that Shehbaz was a mature leader and better suited to lead the opposition parties.
He said the PML-N president would not take "impulsive decisions" like Maryam Nawaz, who he said, had disappeared in the shadows.
The source hailed Shehbaz for bringing both the parties closer again and praised Bilawal for meeting Shehbaz in prison.
Shehbaz had reportedly called Bilawal to wish him on Eidul Fitr while the PPP chairperson had congratulated the PML-N president on his party's victory in Khushab by-election.
COMMENTS
Comments are moderated and generally will be posted if they are on-topic and not abusive.
For more information, please see our Comments FAQ