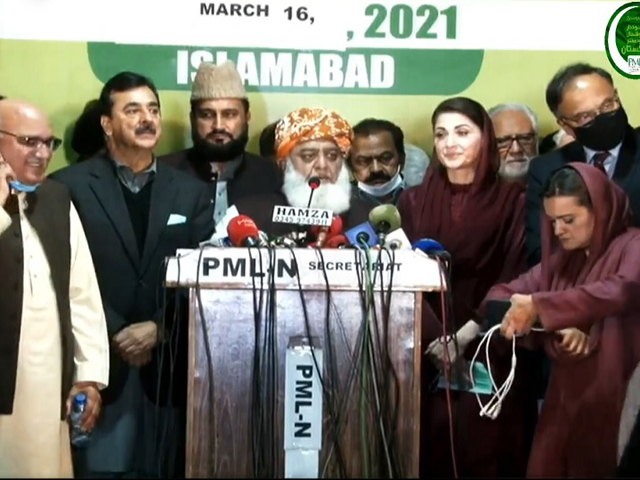 ---
Fazl urges PPP, ANP to rejoin PDM
JUI-F chief says anti-govt alliance to start a public contact campaign with full force
---
ISLAMABAD:
The Pakistan Democratic Movement (PDM) chief Maulana Fazlur Rehman has urged the PPP and the ANP to reconsider their decision to part ways with the opposition parties alliance that was formed in September last year to dislodge the "selected" PTI government.
"We have asked the parties which left the PDM to reconsider their decision. These parties can rejoin the alliance after accepting their mistakes," Fazl said on Monday after chairing a meeting of the PDM steering committee in the federal capital.
The PPP and the ANP decided to leave the alliance after the PDM issued show cause notices to their leaderships for disregarding the opposition parties' decision with regard to fielding a candidate for the position of the Senate leader of opposition and seeking support from a party of the ruling coalition.
The ruling party had claimed that after the exit of the two parties, the PDM had practically come to an end but Fazl on Monday said the alliance is soon going to summon a meeting of the party heads.
"We are going to start a public contact campaign with full force. In our next meeting, we will also seek proposals from experts to revive the economy," he added.
Fazl said the PTI government has raised a hue and cry over the coronavirus pandemic but has not spent a single penny so far to acquire vaccines for the viral disease. He claimed that the government is trying to attribute the rise in the disease to the prayer congregations in mosques.
He said the PDM is still committed to getting rid of the government. "We stand firm," he added. According to sources, the steering committee earlier sought to devise a future strategy against the government. Proposals in this regard will be presented in the meeting of the party heads.