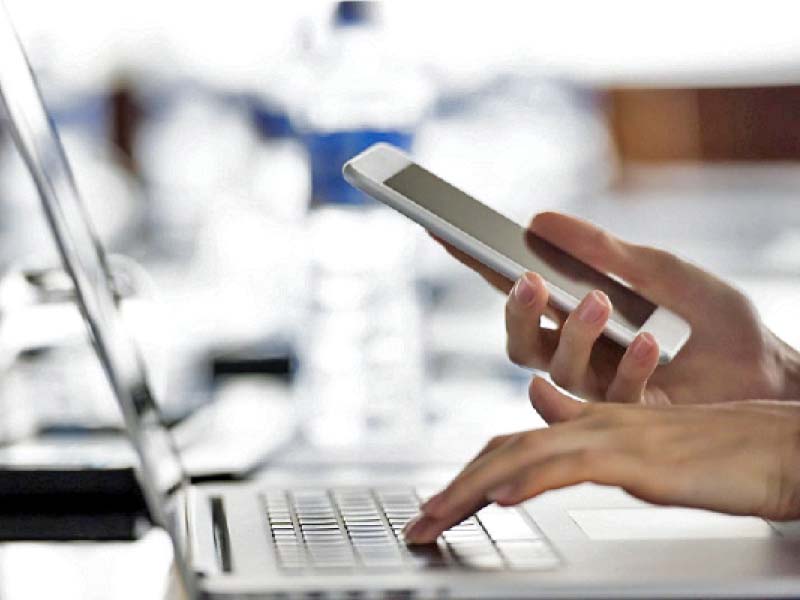 ---
KARACHI:
Exports of goods from Pakistan have continued to breach the $2 billion mark per month since October 2020. However, the star performer in the overall export basket, which includes services, is information and communication technology (ICT) services.
According to statistics published by the Pakistan Bureau of Statistics (PBS), ICT services exports increased 11.14% month-on-month in February 2021. They increased 41.43% in the first eight months (Jul-Feb) of FY21 over the same period of last fiscal year. With exports of $1.3 billion between July 2020 and February 2021, it outperformed all other sectors within the services industry. It is expected that ICT exports from Pakistan may hover around $2 billion mark at the end of this fiscal year.
Even though imports of services in the first eight months of FY21 decreased by 15.82% over the same period of previous fiscal year, the export of services maintained its level with a slight decline of 0.17%.
According to data extracted from the International Trade Centre (ITC), Ireland was the largest exporter of ICT services, followed by India, the United States and China in 2019. All the aforementioned countries reported more than $50 billion in export sales.
Read: 'Digital technology needed to defeat Covid'
On the other hand, Pakistan reported exports of $1.2 billion in 2019 for ICT services. According to a statement published by the World Trade Organisation (WTO) in January 2021, titled "Services trade recovery not yet in sight", global services trade was 24% below its year-on-year value in the third quarter of 2020.
It ranks services exports from Pakistan as the fastest growing in the world at 17% year-on-year in November 2020, with the flow propelled by exports of computer services.
Travel and transport were the most adversely impacted sectors. However, computer services showed a 9% gain in exports as demand for cloud computing and virtual meeting applications and software increased. The increase in ICT services exports from Pakistan is in line with the trend observed globally. Covid-19 has provided this sector an opportunity to become an important contributor to export revenue.
More importantly, there are significant spillover effects into other complementary sectors that can receive a boost from a rapidly developing ICT sector.
The growth in the ICT sector accompanies increasing demand for related goods and services, including but not limited to office machinery, computer equipment, telecommunication equipment as well as internet and e-commerce services. According to statistics published by the PBS, the import of office machinery including data processing equipment increased by 15.38% in the first nine months of FY21 over the value reported in the same period of previous fiscal year.
Imports of telecommunication equipment were up 43.76%, driven by imports of mobile phones. With 98 million 3G/4G subscribers in March 2021, Pakistan provides many opportunities for investors targeting IT-related sectors.
Although these figures may not directly suggest the growth of the ICT sector in Pakistan as several other factors are likely to be involved in their rising demand, they do suggest that increasing investment in ICT-related and digital goods can help bolster the development of the ICT services sector.
Survey on digital firms
The Sustainable Development Policy Institute (SDPI) recently conducted a survey on digital firms in Pakistan to gauge the impact of Covid-19 on their performance.
A majority of the firms reported a positive growth in their turnover during the period, while several firms shifted from domestic to foreign sources for their revenue.
However, it is important to note that major challenges are finding new contracts, receiving payments from abroad, poor internet connectivity and online banking channel options. Traditional firms with brick and mortar retail outlets are forced to embrace digital channels to continue operations. It is imperative to create an environment that is conducive for such a shift.
In order to ensure a more viable ICT sector that enjoys sustainable growth, it is essential that the policy and regulatory framework impacting the digital sector adopted by Pakistan support its development.
The Global Trade Alert (GTA) website provides a public, independent, comprehensive and searchable record of regulations and policy tools that impact the flow of cross-border digital commerce. The most active policy domains globally between January 1, 2020 and mid-May 2021 were data governance, content and intellectual property and registration and licensing.
Pakistan undertook measures for registration and licensing, content-related regulations and intellectual property. The first includes introduction of blocking mechanisms as per the Removal and Blocking of Unlawful Online Content Rules 2020 and the second includes restriction on certain services and content monitoring requirement.
It is likely that the unbridled use of rules to restrict access to information will rather be detrimental to the development of the ICT sector in Pakistan. The government must ensure transparency in the process of blocking and removing content as well as ensure that the mechanism behind the process is accountable.
Read more: Roshan Digital Accounts cross $1b milestone
Trade hurdles
The European Centre for International Political Economy (ECIPE) ranks Pakistan as the 12th most restrictive out of 64 countries on its Digital Trade Restrictiveness Index (DTRI).
This index takes into account fiscal restrictions, establishment restrictions, data restrictions and trading restrictions.
However, interestingly, Pakistan has one of the least restrictive conditions in terms of attracting foreign investment in the digital sector, ranked better than Hong Kong. Foreign ownership is highly encouraged. In essence, the growth of ICT services exports during the pandemic era has not only provided much-needed foreign exchange, it has also confirmed the large potential this sector has in terms of revenue and growth.
As the increase in demand for IT-related goods and services likely to continue post-pandemic, it is imperative to ensure this sector continues to grow.
The writer is a PhD in International Economics
Published in The Express Tribune, May 24th, 2021.
Like Business on Facebook, follow @TribuneBiz on Twitter to stay informed and join in the conversation.