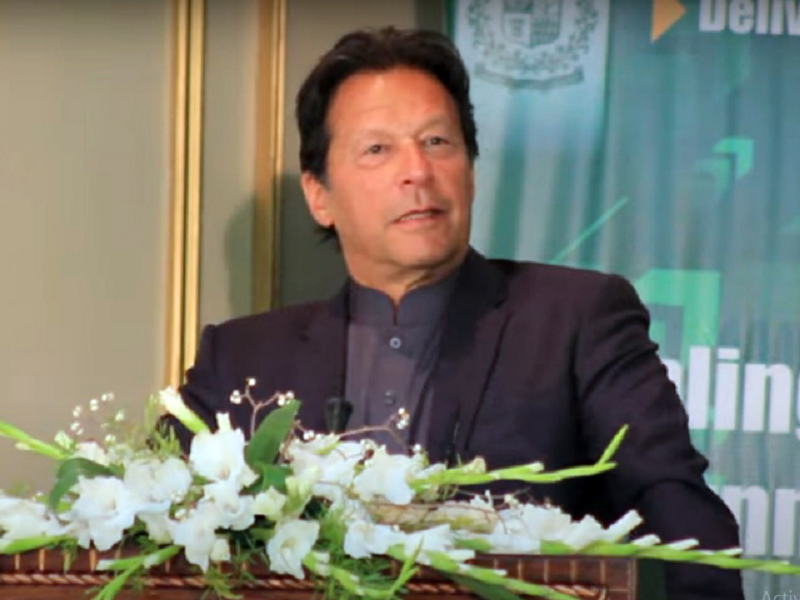 ---
Prime Minister Imran Khan has said that his political opponents and "mafia" want to topple his government "because they are scared of his success".
"Opponents seeing their political death... the mafia is scared of my government's success," he said while addressing a virtual ground-breaking ceremony of 103-km-long Naukundi-Mashkhel highway being developed in Balochistan on Thursday.
The premier while recalling the 2018 general elections said his opponents had predicted that his party Pakistan Tehreek-e-Insaf (PTI) would face defeat in the polls. "But we secured the two-third majority in Khyber-Paktunkhwa due to our performance and our opponents are wary of the same results in the upcoming elections at the national level."
PM Imran without naming anyone said, "The mafia is blackmailing him to get NRO or else they will topple his government."
The prime minister has been in the eye of the storm since one of his aides resigned in the wake of a road realignment scandal and a close confidante – who had once helped form his government – made a new faction in the ruling party.
On Wednesday afternoon, Premier Imran faced reporters when he went to oversee the construction work at Mohmand Dam site but did not take a single question about any political issue and happenings dominating the media right now.
Read more: PTI leaders express solidarity with PM following 'Tareen group' formation
It is not that the journalists, who were taken to the Mohmand Dam, did not want to ask questions about all these developments. They did. However, the interaction of the prime minister with the journalists was carefully choreographed and PM Imran also avoided all questions on politics and the current happenings.
However, in today's speech, the premier said the aim of his political struggle is to ensure that all citizens are equal before the law and to eliminate the law of "might is right".
PM Imran also announced that his government will make all-out efforts to bring the least developed areas particularly Balochistan at par with other provinces. "Our government will build as many roads in Balochistan which no previous government had ever built."
In the days to come, he said, his government will unveil another welfare initiative under which the poor segment of society will be given direct subsidy on food, electricity and other essential items.
COMMENTS
Comments are moderated and generally will be posted if they are on-topic and not abusive.
For more information, please see our Comments FAQ