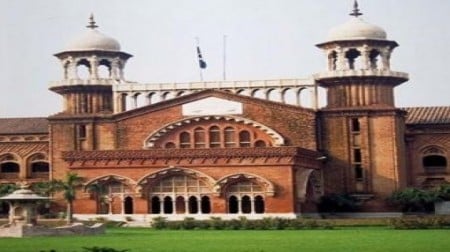 ---
LAHORE:
The courts in the Punjab capital remained at the centre of public attention during the past month amid proceedings and verdicts in the cases of some political leaders.
The month of April and the first week of May proved to be opportune for some leaders involved in the cases, while some others seemed dejected.
The focus of media attention remained on the Lahore High Court, banking courts, district and sessions courts where the cases of some leaders of the ruling as well as opposition parties were heard.
The LHC and banking court heard cases related to PTI's disgruntled leader Jahangir Tareen and PML-N's Mian Shehbaz Sharif, Rana Sanalullah and others.
On one hand, leaders of the PTI delivered fiery speeches outside the courts, while on the other hand the PML-N camp also raised voice against perceived political victimization by the government.
On April 5, an LHC division bench headed by Justice Muhammad Sarfraz Dogar confirmed pre-arrest bail of PML-N Punjab president Rana Sanaullah after in a case pursued by the National Accountability Bureau (NAB).
Sanaullah had sought pre-arrest bail in an inquiry initiated by NAB in an alleged assets beyond means case.
On April 9, LHC Chief Justice Muhammad Qasim Khan denied relief to PML-N leader Mian Javed Latif with an observation that "a person who speaks against the country or the constitution cannot be given relief by me".
MNA Latif had sought direction to quash an FIR registered against him over allegedly hurling insults at the state, its institutions and their integrity, and spreading chaos and panic among people through his remarks in a TV talk show. After that a district & sessions court dismissed his plea for bail.
An interesting chain of events transpired after a bench headed by Justice Muhammad Sarfraz Dogar granted post-arrest bail on April 14 to Opposition Leader in National Assembly Shehbaz Sharif in a money laundering and assets beyond means case initiated by NAB.
On April 15, the second member of the bench, Justice Asjad Javed Ghural, denied having signed the order and issued a dissenting note which opened a new front of rumours.
On April 19, Chief Justice Qasim Khan constituted a three-member referee bench to hear Shehbaz Sharif's bail matter. On April 22, the bench unanimously granted post-arrest bail to the opposition leader.
Meanwhile, a civil court issued notices to the provincial government on April 15 for reply on a suit filed by Sharif family members against alleged maneuvering targeting the ownership of their property and interfering in its peaceful possession.
On April 24, an additional district & sessions judge adjourned proceedings for further arguments and orders, if needed, on an application filed on behalf of Prime Minister Imran Khan as a respondent for making part of the case proceedings all inquiries initiated against Shehbaz Sharif.
Published in The Express Tribune, May 20th, 2021.
COMMENTS
Comments are moderated and generally will be posted if they are on-topic and not abusive.
For more information, please see our Comments FAQ