---
KARACHI:
At least five people, including a minor, were killed and around a dozen others were wounded in roof and wall collapses, among other accidents, as strong winds, accompanied by dust and sand, bludgeoned Karachi on Tuesday evening. Mild to heavy showers also battered parts of the city offering respite from the sweltering heat that had gripped the city.
According to the Pakistan Meteorological Department Director Sardar Sarfaraz, the hot spell witnessed over the past couple of days, under the influence of tropical cyclone Tauktae, may persist till Wednesday (today) afternoon.
Normally a cyclone loses its intensity after touching land but the intensity of the cyclonic storm Tauktae did not decrease as it landed over Gujarat, India, he said. However, Sarfaraz reiterated, the cyclone does not pose a threat to Pakistan's coastal areas.
Through Monday night and till late Tuesday afternoon the metropolis sizzled under the cyclone's influence, which resulted in the suspension of sea breeze. Mercury shot up to 41.5 degrees Celsius and remained at 33 degrees Celsius at its lowest on Tuesday while humidity in the air was recorded at 45 per cent.
Read: Strong winds break torrid spell in Karachi
The heat spell was broken in the evening as strong gusts of wind, blowing at a speed of 70 kilometres per hour, battered the city. The dust storm rose in the Malir, Gadap Town, Super Highway, Gulshan-e-Maymar, Gulistan-e-Jauhar and Ahsanabad areas and had soon gusted throughout the city.
The dusty gale was followed by rainfall of varying intensity in different parts of the city.
According to the PMD, the heaviest rain was recorded in PAF Base Masroor at 7.3 millimetres, followed by 5.8mm in Surjani Town, 1.1mm in Saddar and 1mm in Nazimabad.
The damage
While the sudden change in weather offered respite from the torrid conditions, it also brought death and destruction in different areas of the city.
An eight-year-old boy plunged to his death as the storm wind swept him off the second floor of a building in Clifton.
The deceased, identified as Shan, was shifted to Jinnah Postgraduate Medical Centre (JPMC) for medico-legal formalities. The body was later handed over to the aggrieved family.
Meanwhile, the wall and roof of a house collapsed in Dabba Colony, Baldia Town, killing a woman and a man on the spot.
The deceased, identified as Kaleemunnisa, 55, and Waheed, 45, were shifted to Abbasi Shaheed Hospital for medico-legal formalities.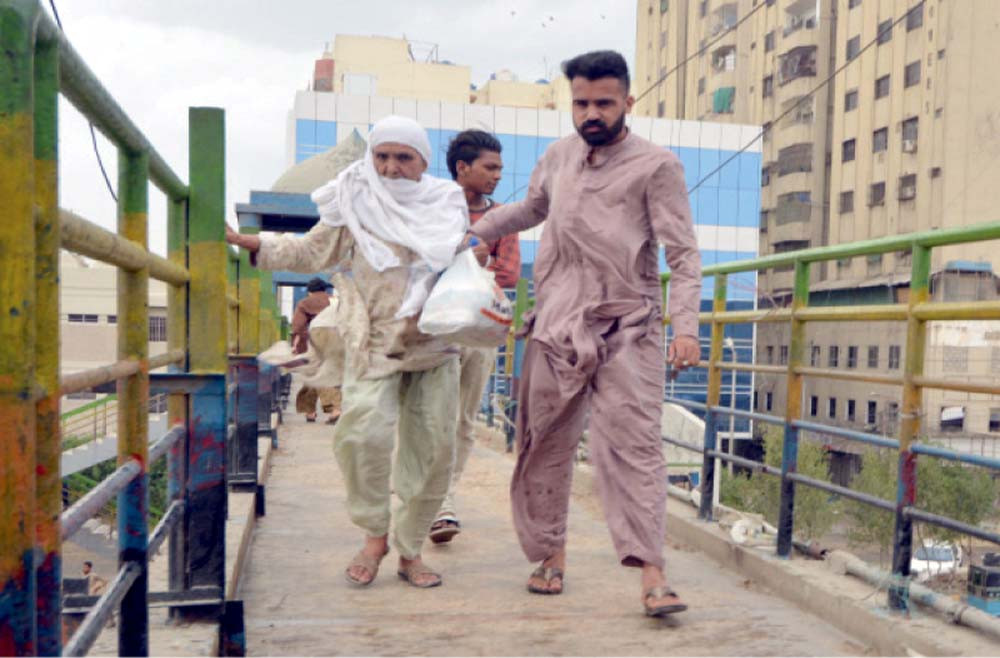 Man helps an elderly woman on a pedestrian bridge in Karachi on Tuesday. PHOTOS: EXPRESS/NNIIn a similar incident, a man was crushed to death as the wall of a house in Saeedabad fell over him. The deceased was shifted to Dr Ruth Pfau Civil Hospital, where he was identified as Nasir Khan, 45.
Read more: Karachi sizzles as mercury shoots up
Meanwhile, a motorcyclist was killed and a woman was injured when their two-wheeler skidded on Murtaza Chowrangi near Malir River as rain pelted over them.
Both Noor Bakhsh, 25, and his cousin, Samina, were shifted to JPMC in injured condition but the former succumbed to his wounds shortly after.
At least a dozen others were wounded in separate incidents as roofs, walls and billboards collapsed on Rashid Minhas Road, in Defence Housing Authority, Mehmoodabad, North Karachi and other areas.
Residents of some areas also reported power outages soon after the dust and storm hit.
In a statement issued later in the night, the K-Electric claimed that power supply was restored in all areas within four hours.
*With additional input from APP
Published in The Express Tribune, May 19th, 2021.