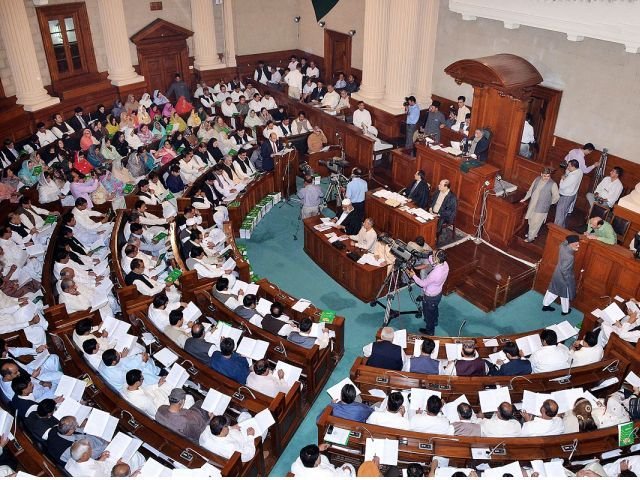 ---
LAHORE:
Parliamentary Secretary Malik Taimoor Masood appeared to be struggling for words in Punjab Assembly on Tuesday as Speaker Chaudhry Pervaiz Elahi asked what the government had done till now for installing water filtration plants across the province.
Taimoor was responding to questions of lawmakers about unavailability of clean drinking water and installation of filtration plants in different districts.
At one stage, members from both the treasury and opposition benches seemed confused over whether the governor was the patron in chief of Punjab Ab-e-Pak Authority. Both sides were at loggerheads after a PML-N member questioned the performance of the authority.
The speaker expunged the name of the governor from the House proceedings.
During the question and answer session, PML-N lawmaker Sohaib Ahmad Malik said no filtration plant had been installed in Sargodha since the current government came into power and those installed by the previous government were not working well.
The parliamentary secretary replied that Rs140 million had been allocated for the work in Sargodha and 51 filtration plants would be installed soon.
At this point, the speaker asked Taimoor to shed light on the progress made by the government in Sargodha.
Taimoor said no work has been initiated due to some technical reasons.
He said earlier it was a practice to install plants without maintenance. To avoid this, the government had formed the Ab-e-Pak Authority for looking after the installation and maintenance.
"Alright, please inform the House what measures this authority has taken since it was formed," the speaker asked.
The parliamentary secretary said after some hesitation that the work had been started and the filtration plants would be installed by the last week of June.
After the parliamentary secretary could not satisfy the members, Law Minister Raja Basharat stood up and said there were some problems in the formation of a board but now it was functioning, so the problem under discussion would be solved soon.
The parliamentary secretary also said Rs300 million had been allocated for Sahiwal to install 116 filtration plants.
When Speaker Elahi asked about the progress in this regard, he said the work had been started. "What has the government done till today?" the speaker asked. The parliamentary secretary said nothing had been done till the moment but "it does not mean we are sitting idle as the things are being brought on the right track".
He also said in reply to a question that four out of five water filtration schemes had been completed in Bahawalnagar.
Published in The Express Tribune, May 19th, 2021.