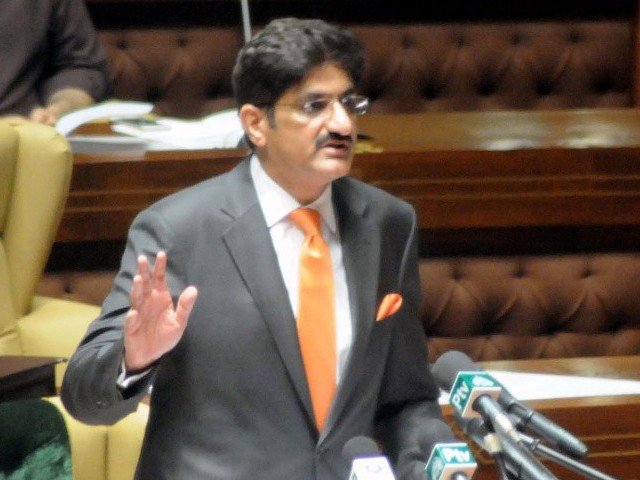 ---
KARACHI:
Sindh Chief Minister Murad Ali Shah endorsed the Centre's move to relax non-pharmaceutical interventions (NPIs) designed to curb the spread of coronavirus.
Presiding over a meeting of the Provincial Task Force on Coronavirus at the CM House, Murad accepted the decision taken by the National Command and Operation Centre (NCOC) on May 15.
NPIs for coronavirus prevention included wearing masks, social distancing and closure of markets and schools, besides others. NCOC allowed the reopening of public transport, markets and offices which followed standard operating procedures (SOPs).
"We will review the decision to relax NPIs, keeping in view the impact of Covid-19, in the post-Eid scenario. We may take strict decisions if SOPs are not followed or there is a spike in reported cases," the CM said.
Read more: Govt to import 6,000 tonnes of oxygen: Umar
The meeting was attended by provincial ministers Dr Azra Pechuho, Saeed Ghani, Nasir Shah, Law Advisor Law Murtaza Wahab, IG Police Mushtaq Maher, Home ACS Usman Chachar, Commissioner Karachi Naveed Shaikh, Additional IG Karachi Imran Minhas, Finance Secretary Hassan Naqvi, School Education Secretary Ahmed Bux Narejo, Health Secretary Kazim Jatoi, Dr Bari, Dr Faisal and Dr Sajjad Qaiser. Also in attendance were representatives of the Fifth Corps, Rangers and WHO.
Weekly report
Health Secretary Kazim Jatoi, briefing the meeting, said 142 Covid-19-related deaths had been reported over the last 30 days. Of the total, 123 patients died on ventilators in hospitals and 19 passed away at home. The CM was displeased over these figures. "We have to save valuable lives by taking necessary measures," he said. Murad added this would only be possible once people followed SOPs and got themselves vaccinated.
Critical care beds
The meeting was told there were 664 ICU beds with ventilators in Sindh, of which 58 had been occupied. Out of 1,814 HDU beds, 460 had been occupied. Jatoi told the meeting that on May 5, there were 54 patients on ventilators in Karachi, but that number went up to 59 on May 11 and 12. The number dropped again to 55 on May 13 and 14. The chief minister was told that Abbasi Shaheed Hospital's Covid unit was closed due to financial liabilities. The chief minister directed Local Government Minister Nasir Shah to have it functional within two days, conduct an inquiry over the liabilities and report back.
"Abbasi Shaheed Hospital is an important facility and it must operate at full capacity round the clock," he said.
Vaccination
The meeting was told that the provincial government had received 932,000 doses of Sinopharm, 11,000 of Cansino, 280,000 of SinoVac and 107,500 of AstraZeneca. It was disclosed that 616,850 vaccines have been administered thus far for the first dose and 213,798 for the second dose. During Eid holidays, May 13 to 16, some 13,634 vaccines were administered at Expo center Karachi and 59,886 in other centres of the province. The chief minister directed the health department to start a mobile vaccination drive for senior citizens who were handicapped or bedridden. The meeting was told that the daily oxygen demand for Covid patients was recorded at 35,089 m3. The participants observed that necessary measures may be taken to procure more oxygen.
Published in The Express Tribune, May 18th, 2021.
COMMENTS
Comments are moderated and generally will be posted if they are on-topic and not abusive.
For more information, please see our Comments FAQ