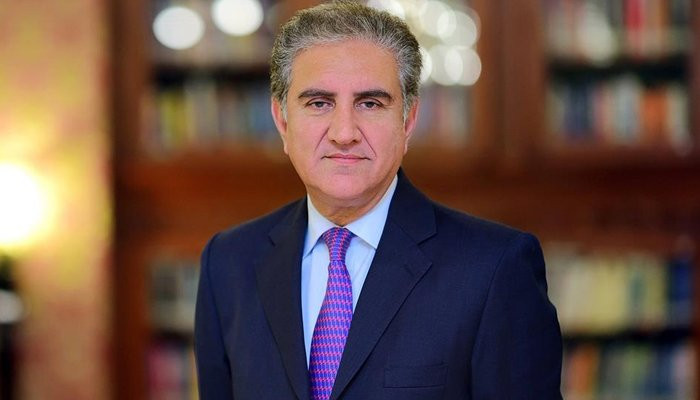 ---
ISLAMABAD:
Foreign Minister Shah Mahmood Qureshi strongly condemned on Monday violence by the Israeli forces against innocent worshippers at Al-Aqsa Mosque during the holy month of Ramadan.
This was conveyed in a statement released by the Ministry of Foreign Affairs as the country's top diplomat received the Ambassador of Palestine Ahmed Jawad AA Rabaei.
While conveying his deepest sorrow and condolences for the innocent victims of lethal attacks by Israeli Defence Forces (IDF) in Gaza and the West Bank, Qureshi categorically condemned the IDF's continuous and indiscriminate attacks that have resulted in the martyrdom of over 140 Palestinians, including 39 children and 22 women, and injured more than 1000.
Read Qureshi conveys concerns over Palestine issue to US counterpart
Reassuring Ambassador Rabaei of Pakistan's ongoing efforts, the foreign minister briefed him about his outreach to foreign ministers of important regional partners.
Ambassador Rabaei expressed his gratitude for Pakistan's unwavering support and steadfast policy on Palestine. He also appreciated Pakistan's continuous efforts to engage the international community for protecting Palestine.
The Palestinian ambassador apprised Foreign Minister Qureshi of the latest situation on ground, which was already dreadful due to Covid-19, and the ensuing humanitarian suffering.
Earlier on Sunday, the foriegn minister called for immediate protection of Palestinians against "senseless Israeli aggression", implementation of United Nations resolutions, and accountability of Israel's crimes against humanity.
Addressing the virtual open-ended emergency meeting of the Organisation of Islamic Cooperation (OIC) executive committee to discuss Israel's aggression against Palestine, the foreign minister had stressed that all necessary steps must be taken to stopp the ongoing aggression against the Palestinian people and their properties.
Read more Qureshi discusses situation in Palestine with Chinese, Sudanese counterparts
He said the international community must protect the Palestinians against the blatant and illegal use of force and flagrant violations of human rights.
"It should urgently intervene and take concerted actions to stop Israeli atrocities against civilian population in Gaza. The bombardment in Gaza must be stopped immediately," he added.
FM Qureshi also underlined that implementing forthwith resolutions adopted by the UN Security Council, UN General Assembly and the UN Human Rights Council was both critical and urgent.
Israel's crimes against humanity should not escape accountability, he said, adding, there should be no impunity for Israel's violation of international law, including the fourth Geneva and the other various human rights conventions.
COMMENTS
Comments are moderated and generally will be posted if they are on-topic and not abusive.
For more information, please see our Comments FAQ