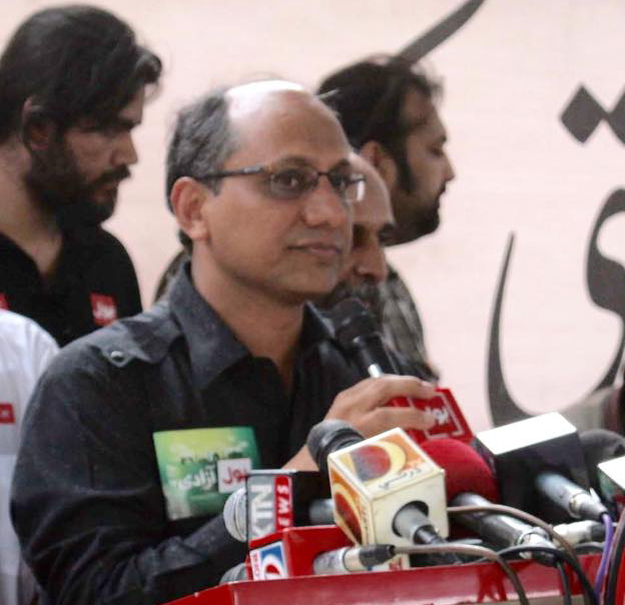 ---
KARACHI:
Remembering the May 12 carnage, Sindh Education and Labour Minister Saeed Ghani said on Wednesday that May 12, 2007, was the darkest day in Pakistan's history when state-sponsored terrorism was carried out and police and law enforcement agencies' officials were taken hostage by terrorists.
He said that this day will always be remembered for the sacrifices made for the independence of judiciary and democracy.
"The supporters of democracy were massacred by terrorists as per the will of a dictator, Parvez Musharraf, who later claimed it to be an exhibition of power by the public," said Ghani.
He claimed that the workers of political party safeguarded the independence of judiciary, as well as the lawyers.
PPP's lead widens against PML-N in NA-249 recount
The workers of Pakistan Peoples Party sacrificed their lives in the struggle for an independence judiciary, he added.
Separately, on the 14 anniversary of the May 12 carnage, Awami National Party (ANP) Sindh President Shahi Syed said peace was finally restored to the city after much sacrifice at the time.
Syed said the followers of Bacha Khan refused to bow to the "pharaohs" of the time.
According to Syed, the followers of Bacha Khan challenged the state within a state when the entire city was influenced by terrorists.
It was a time when the worst mafia of history was ruling over Karachi, claimed Syed, adding that this force had taken the citizens of Karachi hostage.
"Billions of rupees were collected from Karachi through extortion and sent abroad," said Syed.
He claimed that no section of the city was safe whether they were businessmen, lawyers, doctors, media or political and religious figures.
"The bitter memories of May 12, 2007, are still fresh in my mind. I saw my old friends being shot in front of my eyes that day," said Syed.
According to him, it is a pity that the perpetrators of the May 12 incidents have not been identified by the state date, despite the fact that over 40 unarmed political activists were brutally killed on the busiest thoroughfare of the city.
He demanded that the May 12 case be reopened and reinvestigated to bring the responsible elements to justice.
Published in The Express Tribune, May 13th, 2021.