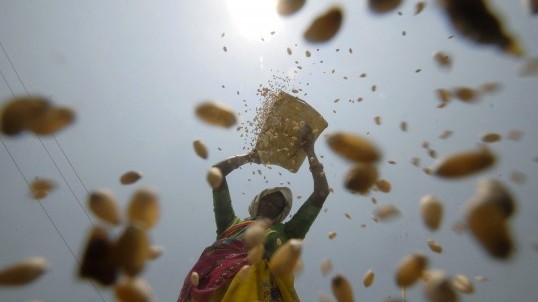 ---
ISLAMABAD:
Tens of thousands of people who belong to villages and work in different cities, including Rawalpindi and Islamabad, have returned to their villages to help their families in wheat crop harvesting and threshing, revealed a report on Sunday.
Ghulam Akbar of Muzaffargrah who was working in the federal capital as a mason told that harvesting, threshing of wheat is at its peak. He said as the season of wheat harvesting comes near every one belonging to agricultural areas prefer to go back from cities to help their families in harvesting and threshing of wheat crop.
"I agree that we earn a decent amount working in cities as masons or labourers, but wheat is an important item for the survival of a family for the whole year," he remarked.
Akbar said the wheat harvest is an annual feature for many families as they arrange their annual wheat stock in the season. A family of three can easily thresh up to five maunds (200 kilogrammes) of wheat daily worth Rs8,000.
He asserted that this year wheat production was better compared to last year and farmers were getting 40 maunds to 50 maunds per acre which is a blessing. He hoped farmers in Punjab would earn extra as the Punjab government had increased the minimum support price for wheat to Rs1800 per 40 kg from Rs1400.
Published in The Express Tribune, May 10th, 2021.