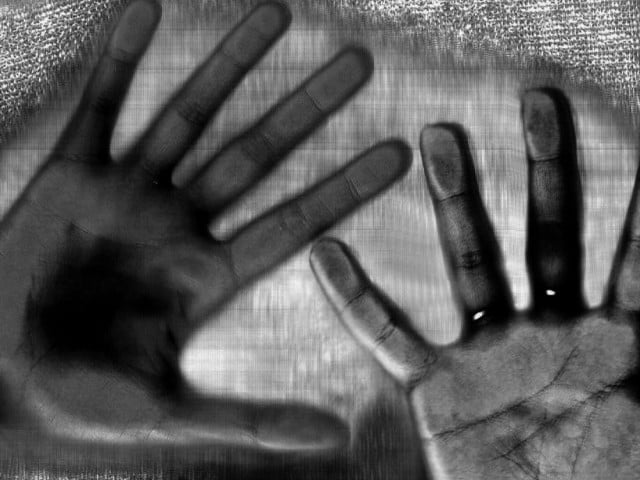 ---
MULTAN:
A teenage girl was allegedly gang-raped after she abduction in Sahiyanwala.
Batala Colony police registered a case against the suspects on Saturday under Section 376 of the Pakistan Penal code (PPC).
According to the police report, Bashir Ahmed, a resident of Mohalla Rasool Nagar, stated in his complaint that he had gone to his cousin Abdul Rauf, a resident of Machli Farm Satiana Road, on April 11.
Bashir said, "On the night of April 13, at 12:45am, my daughter had stomach ache. I took her to a pharmacy in D-Ground area on a motorbike to get medicine. When we were returning, we stopped at a restaurant at Ghitanwala Chowk Satiyana Road and ordered Parathas. Meanwhile, the suspects Akmal, Abdul Karim, Adnan, and Naubahar came in a grey car and abducted my daughter at gunpoint. As I shouted for help, people gathered at the spot and I reported the incident to the helpline number 15."
Police arrived at the spot about 15 minutes later. The next morning at 5am the girl was found unconscious on a road between Machli Farm and Jaranwala Road. The complainant stated that she was crying and said that the suspects had taken her to an unknown place where they raped her at gunpoint and two unidentified men kept guard.
Incidents of sexual violence have been rampant across Punjab where women have faced molestation and physical abuse.
Read Young woman 'gang-raped' by neighbours in Lahore
Earlier this year, a woman resident of Nisar Colony in Samanabad area was lured by a friend to her house where her brother Omar Javed allegedly sexually assaulted her.
In another case, the daughter of Ashraf Ali, a resident of Mohalla Sadiqabad Maqbool Road, Batala Colony, stated that she was married to Muhammad Abbas in January last year and she had a child and was pregnant but her husband physically abused her. She said her doctor had advised her to be careful but her husband ignored the advice.
The woman said her husband had also threatened to kill her. '
Batala Colony police registered a case under Section 377 of PPC against her husband.
A 20-year-old woman was allegedly gang-raped by two neighbours in Lahore's Mozang area on February 5. According to sources, the victim was alone at her residence when her neighbours Ehsan Ali and Hassan allegedly barged into the house, subjected her to severe torture and sexually assaulted her.
The victim filed a complaint with the police against the two suspects. The area police registered a case.
In January, two teenage girls were allegedly sexually assaulted in separate incidents in Dijkot town of Faisalabad district.
According to the police, Muhammad Zeeshan's 14-year-old niece was alone in her house when her brother-in-law Nadeem sexually assaulted her in Hajveri Town area. The suspect fled from the crime scene.'
Also read Two minors, women allegedly sexually assaulted in Punjab
Published in The Express Tribune, May 10th, 2021.