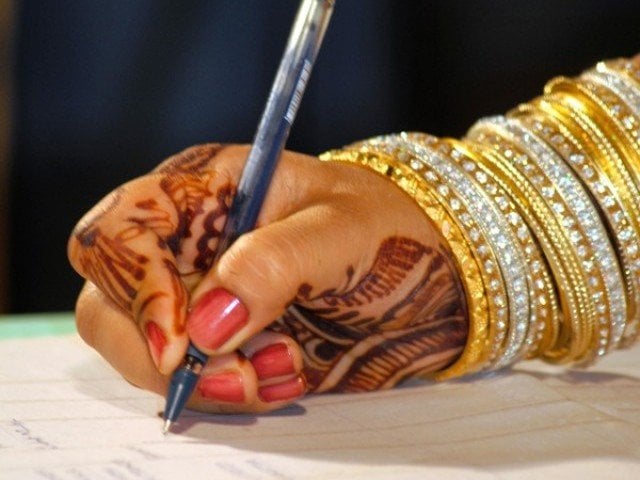 ---
A bride escaped with valuables from the house of her in-laws on the outskirts of Sahiyanwala on Saturday.
According to the police report, the bride gave an intoxicant to her in-laws before fleeing with looted cash, gold jewellery, clothes and other belongings.
Police registered a case against 11 suspects including four women of a gang and launched a search for them.
The complainant, Zahid Khan, stated, "About two months ago, Yasin and Maulvi Hameed came to me and said that there was a very good marriage proposal. They said the girl belonged to a good family and was an orphan. I agreed and went to Sabra Bibi's house at the request of accused Yaseen and Maulvi Hameed."
He added that there were other women who called Sameera, daughter of Allah Ditta, and I liked her.
The suspects said that the girl was poor and could not afford to arrange the wedding ceremony. They asked for money to arrange the wedding feast so that they could arrange the event with respect in the community.
Zahid said, "I gave Rs80,000 to the suspects, out of which Hameed received Rs25,000 for the marriage proposal.
I was to get married on March 26, but on March 25, Yaseen informed me that a close relative of the girl had died, so I should bring the wedding procession of five people." He claimed that Maulvi Murad Hussain demanded Rs10,000 for the Nikah.
After the marriage, Sabra Bibi came to meet Sameera and gave her drugs which she mixed in the dinner and the family members fell unconscious after consuming it.
He said Sameera looted 10 tolas of gold jewellery, silk suits, Rs50,000 in cash and other belongings and escaped from the house.
The complainant alleged that Yaseen, Hameed and others had formed a gang to trick people through fake marriages. Police registered a case against the suspect under different sections of Pakistan Penal Code (PPC) including 337-J (Causing hurt by means of poison), 380 (Theft in house) and 420 (Cheating and dishonestly inducing delivery of property).
In a similar case in December last year, a bride allegedly fled the groom's house along with cash, jewellery and expensive clothes after a fake marriage.
Police registered a case and started a search for the suspect.
Imran, son of Niyamt Ali, a resident of village 95RB, filed a report stating that Abdul Jabbar had brought a marriage proposal for him of Atiq's daughter from Feroz Watwan. He informed the police that two other suspects, Qurban and Shahida Parveen, were also involved in arranging the marriage.
The complainant said the accused took Rs100,000 for buying the bride's clothes as well as two tolas of gold and 10 dresses.
The bride stayed with the groom for a night after the wedding and left the next day.
It was later revealed that the suspects had arranged a fake marriage and had not registered it with the local union council.
Published in The Express Tribune, May 9th, 2021.
COMMENTS
Comments are moderated and generally will be posted if they are on-topic and not abusive.
For more information, please see our Comments FAQ