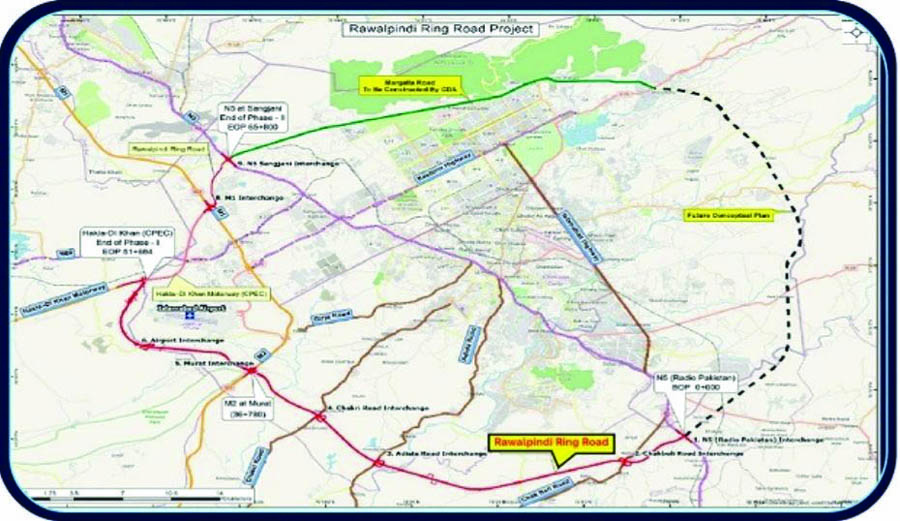 ---
RAWALPINDI:
Work has stopped yet again on Rawalpindi Ring Road and Leh Expressway flood channel projects over minor administrative matters, sources told The Express Tribune. Both projects were revived by the incumbent government after a gap of more than a decade.
According to details, the relevant authority had completed the land acquisition process after the completion of route alignment for Ring Road. Tenders were also issued and the bids submitted by firms were supposed to have been opened on April 27. However, Prime Minister Imran Khan took notice of the allegations of corruption in the project, particularly the change in the alignment of the road to benefit some private parties.
Following these developments, the concerned official was removed from the post of Rawalpindi commissioner while the Punjab chief secretary formed a fact-finding committee to probe the matter.
The process for revisiting the alignment of Ring Road will be taken up again after the inquiry report. The government would also decide whether to issue a new tender for the ring road or process the tenders already submitted, sources added.
The other long-pending mega project, Leh Expressway flood and sewerage channel, is also facing a delay due to a shortage of Rs40 billion required to build it.
The government had decided on the urban regeneration of residential properties along the Leh Expressway route to raise funds but no progress has been made on the decision. The project is supposed to be completed under a public-private partnership. However, to date, no private entity has shown interest in the offer of two plots for the contractor of Leh Expressway.
Rawalpindi Development Authority (RDA) officials told The Express Tribune that the process of new alignment and awarding of the contract of Ring Road could take long.
Three days ago, a fact-finding inquiry committee was formed to look into the changes in the alignment of the Rawalpindi Ring Road project which will submit its report this week. However, the matter has halted progress on the project and the release of tenders has been delayed as well.
Published in The Express Tribune, May 2nd, 2021.