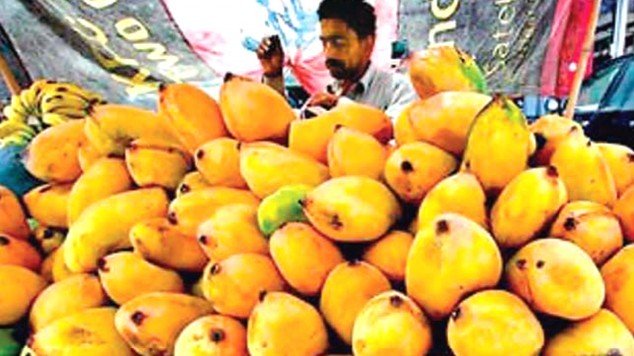 ---
KARACHI:
Considering the delay in mango season owing to global warming, the government has extended the commencement date of mango export to May 25.
According to a notification of the Ministry of Commerce, the local exporters will be able to begin their export from May 25.
"We used to kick-start mango export in mid-May, but due to changes in environment the mango season now begins late, therefore the government has decided to start export accordingly," Federation of Pakistan Chambers of Commerce and Industry (FPCCI) former chief of agriculture committee Ahmad Jawad told The Express Tribune.
One reason for the delay was that when the date was earlier, the exporters were tempted to resort to different artificial methods of mango ripening, which in the long term could hurt the credibility of Pakistan, he said.
Pakistan produces around 1.9 million tons of mangoes while it exports around 120,000 tons. This year, however, it expects to export more as it has gained access to the Chinese market.
Pakistani mangoes are expected to enter the Chinese market on a large scale this summer. Last year, Pakistan held a mango tasting event in Shanghai and the feedback from Chinese consumers was very positive, said Jawad.
Pakistan's mango supply season typically lasts five to six months and peaks in June, with the majority of sales occurring between May and August. Despite their exceptional taste, Pakistani mangoes are not priced competitively in the Chinese market due to a high cost of air freight. In this regard, "Pakistan International Airlines (PIA) must announce a special tariff for China and we can easily tap 30,000 to 40,000 tons."
On the other hand, the Ministry of Commerce and the Civil Aviation Authority (CAA) have agreed to install a high-capacity scanner at the Karachi airport for the examination of export consignments of fruits, vegetables and other perishable food items, which will be particularly helpful in mango exports.
"Installation of the scanner will enable export consignments of fruits and vegetables, especially mangoes, to be scanned in the shortest possible time with minimum human intervention, which will ensure that the quality of mangoes is not affected," said Pakistan Fruit and Vegetable Exporters and Importers Association (PFVA) Patron-in-Chief Waheed Ahmed.
It will also help in removing bottlenecks and barriers to ensure smooth export of perishable cargo, leading to enhancement of fruit exports, especially mangoes.
During a visit to discuss the installation of modern scanners at the airport, an official of the commerce ministry agreed to form an integrated system by merging various regulatory processes, leading to a one-window operation, said Ahmed.
Ministry of Commerce Executive Director General Syed Rafay Bashir Shah expressed concern that different agencies at the airport undertook the same process, which affected the quality of fruit export shipments due to frequent human handling and taking a longer time in the inspection process.
During the visit, it was also agreed that simultaneously with the installation of the scanner, a special shed would also be constructed at the airport.
Published in The Express Tribune, April 29th, 2021.
Like Business on Facebook, follow @TribuneBiz on Twitter to stay informed and join in the conversation.